Leaders of Experiential Project-Based Education (LEPE) Conference 2018
---
Catalysts for Intelligent Action
At the 2018 LEADERS OF EXPERIENTIAL PROJECT-BASED EDUCATION (LEPE) CONFERENCE, educators and professionals from around the world gather in an intimate setting to learn, share insights and have candid conversations about their experiential learning programs. 
Tuesday, June 19 – Thursday, June 21, 2018
Join us in Pittsburgh to discuss the issues that matter most to you and the experiential project-based education community. The 2018 conference offers opportunities to:
Engage in strategic conversations, exploring new ideas and unique approaches to project-based learning
Meet current challenges through formal and informal networking sessions
Learn different perspectives on "what has worked" versus what is still "work-in-progress"
WHO SHOULD ATTEND
The conference is for faculty and administrative directors who offer project-based learning to their students.
CONFERENCE FORMAT
The conference takes place over a three-day period and includes a wide variety of plenary sessions, networking opportunities, and featured speakers. Learn from thought leaders in this industry and your LEPE peers.
REGISTRATION INFORMATION
To register for the conference, please click on the "register now" button below. You will be asked to pay your registration fee via credit card during the registration process.
The deadline to register and remit payment is MAY 18, 2018.
Registration fee: $400.00 USD

If you have any questions about payment, please contact Carnegie Mellon University Conference & Events Services at 412-268-1125 / 1-800-590-4139 or confserv@andrew.cmu.edu
REQUEST FOR PROPOSALS
We depend on our members to participate as speakers and presenters at the LEPE Conference. If you are interested in submitting a proposal, as a featured speaker or as a team, please click the "submit proposal" button below.
Submit your proposal no later than APRIL 2, 2018 .
A committee of LEPE peers will review the proposals to determine which ones will be featured at the conference. We will let you know if your proposal has been accepted no later than April 15, 2018.
We appreciate your participation!

HOTEL INFORMATION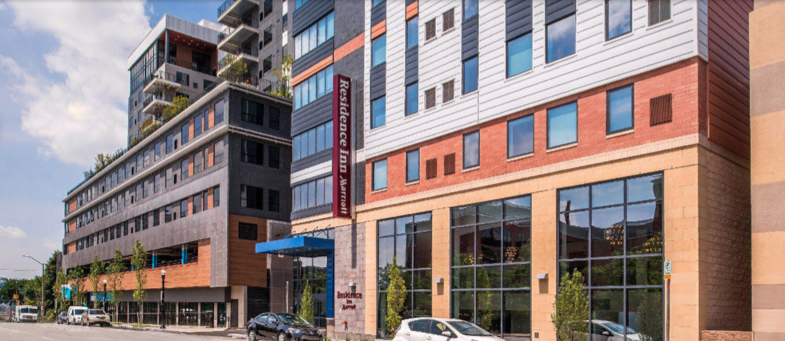 The 2018 LEPE Conference hotel is the recently built Residence Inn, located at 3341 Forbes Avenue, Pittsburgh, Pennsylvania 15213 USA.
It is a 15-minute walk (or a short shuttle ride) to Heinz College, Hamburg Hall, the site of the conference.
The room rate is $139.00 USD per night and will be available at that rate until MAY 22, 2018 (or until sold out). There are 70 rooms available and reservations must be made through the link below to receive the special conference rate. Attendees are responsible for making and paying for their own hotel accommodations.

CONFERENCE AGENDA (Tentative)
TUESDAY JUNE 19, 2018
6:00-6:15PM
Formal Welcome
6:15-7:15PM
Lecture from Laurie Weingart, Interim Provost of Carnegie Mellon University
7:15-9:00PM
Reception in the Teresa Heinz Rotunda
WEDNESDAY JUNE 20, 2018
8:00-8:30AM
Registration / Breakfast
8:30-9:45AM
Welcome & Participant Introductions
9:45-10:00AM
Break
10:00-11:00AM
The Innovation for Humanity Project: LEPE's Impact in an Evolving Project-Based International Program
11:00-11:15AM
Break
11:15AM-12:00PM
One Year Out: Assessing LEPE Schools' Progress Toward Implementation of Assurance of Learning Standards
12:00-1:30PM
Lunch
1:30-2:30PM
Experiential Learning Sponsor Panel
2:30-3:00PM
Shuttle to CMU's Entertainment Technology Center
3:00-4:30PM
Entertainment Technology Center Tour
4:30PM
Shuttle to Residence Inn
Evening (varies)
Networking Dinners (use sign-in sheets at registration)
THURSDAY JUNE 21, 2018
8:00-8:30AM
Arrival & Breakfast
8:30-9:30AM
Modern Approaches for Modern Projects: Using Digital Tools to Reach New Audiences
9:30-9:45AM
Break
9:45-10:45AM
The Impact of MIT Sloan Action Learning on the Student Learning Experience
10:45-11:00AM
Break
11:00AM-12:30PM
Experiential Learning Outside of Traditional Management
12:30-2:00PM
Lunch
2:00-3:30PM
Measuring the Impact of Project-Based Experiential Learning
3:30-4:00PM
Closing Remarks / Next Steps
4:00-5:30PM
Return to Residence Inn / Free Time
5:30PM - Bus picks up at Heinz College
5:40PM - Bus picks up at Residence Inn
7:05PM
First pitch at Pirates Game & Dinner!
Attendees at prior conferences include:
Boston University, Questrom School of Business
Case Western Reserve University, Weatherhead School of Management
The University of Chicago, Booth School of Business
Columbia Business School
Cornell University, Johnson School of Business
Dartmouth College, Tuck School of Business
Duke University, Fuqua School of Business
Emory University, Goizueta Business School
George Washington University School of Business
Harvard Business School
Humber College
INCAE Business School
Indiana University, Kelley School of Business
MIT, Sloan School of Management
New York University, Stern School of Business
Northwestern University, Kellogg School of Management
The Ohio State University, Fisher College of Business
Stanford Graduate School of Business
UC Berkeley, Haas School of Business
UC Davis Graduate School of Management
UCLA Anderson School of Management
UC San Diego, Rady School of Management
University of Connecticut School of Business
University of Maryland, Robert H. Smith School of Business
University of Michigan, Ross School of Business
University of Minnesota, Carlson School of Management
University of North Carolina at Chapel Hill, Kenan-Flagler Business School
University of Notre Dame, Mendoza College of Business
University of Pennsylvania, The Wharton School
University of Pittsburgh, Katz School of Business
University of Southern California, Marshall School of Business
The University of Texas at Austin, McCombs School of Business
University of Virginia, Darden School of Business
University of Washington, Foster School of Business
University of Wisconsin School of Business
Upper Iowa University
Washington University in St. Louis, Olin Business School
Yale School of Management