REAL CHALLENGES, REAL SOLUTIONS
---
User-centered research. Human-centered design.
The Policy Innovation Lab (PIL) is an intensive, applied policy course at Heinz College that prepares students to become public interest technologists who are creative, ethical, inclusive, and responsive. This is accomplished by teaching graduate students how to design and build public interest technology services with human-centered design, and by following an agile methodology. Working directly with a client from a government office or public service nonprofit, students aim to develop and deliver a Minimum Viable Product (MVP) with high-impact results.
Select PIL students may be invited to continue their work during a fellowship the following summer. 
The Public Interest Technology University Network Challenge Fund, a fiscally sponsored project of New Venture Fund has generously supported the development of open access course materials and the PIL Playbook, as well as the creation of Public Interest Tech (PIL) Fellowships at Heinz College.
Policy Innovation Lab Course Materials
Course materials for the Policy Innovation Lab are currently available through CUNY's Public Interest Tech OER Commons site, the Public Interest Tech platform pitcases.org operated by Georgetown, Howard and Stanford universities, and Canvas Commons. We intend for these free resources to make it easier for universities to adopt and enhance coursework in public interest technology.
The materials include 7 weekly course modules, 12 assignment instructions and rubrics, a sample syllabus, instructor notes, and other course resources. They also include sprint planning and research plan templates, agile methodology readings and videos, and prototyping tools.

These course materials were also referenced in the development of the 'Teaching Public Service in the Digital Age' syllabus.

Policy Innovation Lab Playbook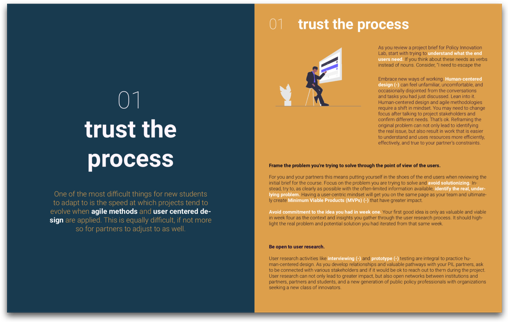 The PIL Playbook was designed and improved with student input, and includes a series of custom "plays" designed to help new students ramp up quickly to a Public Interest Technology mindset. The PIL Playbook has been an important resource for ongoing PIL courses at Heinz College, and has helped provide new students with a model for how to operate most effectively within the structure of the course and apply the relevant methodologies in their work.
Public Interest Technology Fellowship
---
Some PIL students further developed PIT projects through funding provided by the New Venture Fund. The fellowships have supported these talented students during both the summer months as full-time fellows, as well as part-time academic year fellows.

RECENT Course Highlights
San Francisco Public Utilities Commission
Project: Development of 'Impact Green,' an open source green bonds investment platform
PIT Fellows: Chizo Nwagwu, Sanika Saharabuddhe, Sarah Sherwood, Sharleen Devjani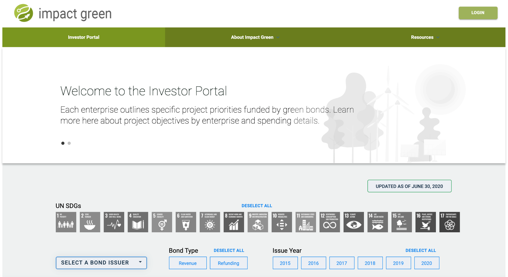 This was the first attempt at taking a project from the PIL course through the fellowship to a full capstone. The results shown in the Github repository linked below represents a culmination of those efforts.
Image is from the final capstone prototype deployed by the capstone team: Yueshan Lin, Yiran Pan, Chizobam Nwagwu, Tristan Pang, Yiting Hui, and Xuanming Cao.
U.S. Census Bureau 
Project: Support for the 'Combating Bias in AI Toolkit'
PIT Fellows: Alex Jackson, Alisar Mustafa, Priya Gupta, Yu-Jan Chang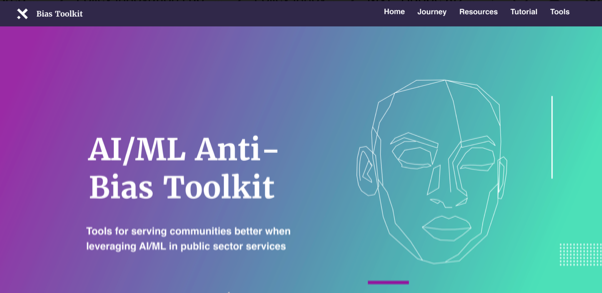 Work on this project included design assets and research support.
Heinz College 
Project: Development of 'Public Interest Technology Pipeline,' a reference guide for incoming students interested in PIT job opportunities
PIT Fellows: Lara Hasse
Heinz College/PPIA/NASPAA Public Service Weekend
Project: Our 2020 and 2021 Summer PIL Fellows provided mentorship to Public Service Weekend participants during our Policy Innovation Lab Team & Competition, where teams of students engaged in moonshot thinking to come up with creative ideas around the topic of policing and police data initiatives, and improving diversity in PIT.
This event is geared towards promising undergraduate students with a goal to "increase the participation and inclusion of traditionally underrepresented groups at the highest level of public sector leadership."
Accelerator Model for the Policy Innovation Lab
Project: Carnegie Mellon University's Heinz College is piloting an Accelerator Model for their Policy Innovation Lab. The vision is to encourage graduate level students to explore how to improve government through the launch of new products and ventures. This document provides an overview of the Accelerator and Partnering resources. It's a free and open-source resource for the greater Public Interest Technology (PIT) University Network.