Heinz College Policy Impact
---
From Washington, D.C. to Silicon Valley, Heinz College experts create and inform policies that will shape the future of our nation, society, and world.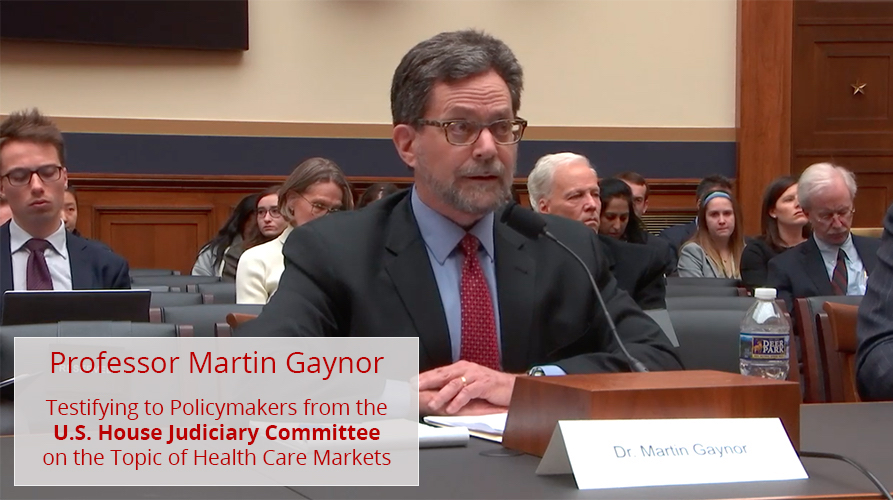 Whether it's driving groundbreaking research, speaking on expert panels, testifying before Congress and other government bodies, elevating the use of technology in the public policy sphere, testing new ideas and programs, or sharing perspectives in the media, Heinz College's cross-disciplinary thought leaders are out in front on the most pressing issues of our time.
From health care and trade to criminal justice and national security, there is no shortage of consequential policy debates in the United States and abroad. Heinz College confronts such complex problems with novel approaches and innovative methodologies guided by evidence.
Heinz College doesn't just participate in these conversations. We lead them, shift them, and shape them.
CRIME & DRUG POLICY

Heinz College is leading research in criminal justice including recidivism, policing, and the use of algorithms in sentencing; drug policy research includes studies of new cannabis markets, substance abuse, and the reduction/prevention of opioid deaths.
Key Experts: Al Blumstein, Jonathan Caulkins, Daniel Nagin
CYBERSECURITY & DATA PRIVACY

As the world becomes more connected and data is both generated and collected at unprecedented rates, the need for policy solutions in cybersecurity and privacy have grown tremendously. Key areas of research and influence include risk management, election security, and privacy economics.
Key Experts: Alessandro Acquisti, Rahul Telang, Randall Trzeciak
DIGITAL CONSUMER BEHAVIOR

Many industries have been turned upside down by technology and big data, which has caused the rise of new business models as well as complex consumer behaviors and legal concerns. Our experts inform policymakers and industry leaders alike on how 21st century innovations like social media and digital streaming impact economics, politics, and culture.
Key Experts: Pedro Ferreira, Beibei Li, Michael D. Smith, Rahul Telang
Energy, Environment & SUSTAINABILITY

Rapid social and political changes have placed increasing demands on institutions to be agents of equity. Our energy experts, environmental economists, and sustainability leaders dig deep into the effects of climate change, regulations, and adoption of the UN Sustainable Development Goals on crucial areas like health; clean air, water and soil; child development; equality and justice; and the global economy.
Key Experts: Karen Clay, Akshaya Jha, Sarah Mendelson, Edson Severnini
Recent Activity:
Professor Karen Clay was cited across major outlets for her recent work on rising levels of air pollution, including NPR, NBC, ABC, CBS, New York Times, Washington Post, Bloomberg, Vox
The #1 Thing Preventing Nuclear Development Is Still Public Fear [Popular Mechanics]
Building Peaceful, Just and Inclusive Societies Amid a World on Fire, United States Institute of Peace (see video)
Lead's Other Toxic Toll: Fertility [CityLab]
Health care

Our faculty push the boundaries of what's possible in health care, whether its groundbreaking analysis of existing and emerging health care markets and models, or opening new frontiers in health care powered by technology.
Key Experts: George Chen, Martin Gaynor, Amelia Haviland, Rema Padman, Jeremy Weiss
LABOR Economics, Trade & Immigration
Photo: Peterson Institute/Jeremey Tripp
At the intersection of technology and society, the areas of economics, trade, and immigration face complex and evolving questions. Topics of research include the future of work—including economic disruption and labor displacement fueled by automation and AI—the effects of immigration on local economies, the rise of China as an economic power, and the impact of trade wars, past and current.
Key Experts: Lee Branstetter, Brian Kovak, Lowell Taylor
SMART CITIES
Photo: Brookings Institution/Paul Morigi
One of the most profound changes in the Fourth Industrial Revolution will be the coming online of smart cities and communities across the globe, which will create new possibilities for citizen engagement, public safety, economic growth, and quality of life. Heinz College is a global leader in advancing smart cities research and policy.
Key Experts: Stan Caldwell, Mark Kamlet, Karen Lightman, Sean Qian, Raj Rajkumar, Richard Stafford
SOCIETAL IMPACTS OF TECHNOLOGY

Policy and technology have historically been separate domains, but more and more the lines between the two—and the demands they place on each other—are blurring. From the future of work to algorithmic bias, technology has the potential to reshape our society, and our experts are visionaries who advise policymakers and craft solutions that will ensure technology has broad and inclusive social benefits.
Key Experts: Ramayya Krishnan, Leman Akoglu, Lee Branstetter, Alexandra Chouldechova, Rayid Ghani, Christopher Goranson, Kristen Kurland, Rahul Telang
ENGAGING WITH LEADERS AT EVERY LEVEL
Our students and faculty regularly have meaningful engagements with leaders from the City of Pittsburgh, local and county agencies, the Commonwealth of Pennsylvania, national politicians including U.S. Representatives Mike Doyle (PA-18) and Conor Lamb (PA-17), and distinguished guest speakers and lecturers.
LEADING PUBLIC DISCOURSE
---
Heinz College has hosted several high-profile primary debates, as well as speaker series events with elected leaders.
EXEMPLIFYING RESILIENCE AND RESOLVE
---
San Juan Mayor Carmen Yulín Cruz (HNZ '86) came to campus for conversations about energy resilience and leadership.
REPRESENTING INTELLIGENT ACTION
---
U.S. Rep Susie Lee (HNZ '90) recently won election to Congress from Nevada's 3rd district. She met with our policy students in DC to discuss how CMU shaped her approach to leadership.
A NATIONAL PLATFORM FOR BIG IDEAS
---
President Obama held the White House Frontiers Conference at CMU to discuss building America's capacity in science, technology, and innovation
A PRESENCE ON CAPITOL HILL
Our faculty and alumni are frequently called to testify before Congress. Recent appearances include: