Alumni Association Awards Program
---
The Heinz College Alumni Association Board (HCAAB) believes that it is important to recognize the outstanding contributions that our alumni make to their chosen professions and in service to Heinz College. To that end, the HCAAB initiated the Heinz College Alumni Awards in 2012 to recognize outstanding alumni with four awards: Distinguished Alumni, Outstanding Recent Alumni, and Alumni Meritorious Service, and the Dean's Recognition Award.
2021 Alumni Association Award Honorees
Distinguished Alumni Award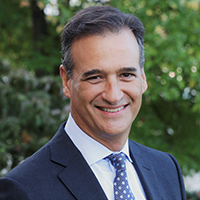 Dr. Mark A. Rubino (MMM 2006)
Mark A. Rubino, MD, MMM, FACOG is the President of the Forbes Hospital and a practicing gynecologist.  Dr. Rubino obtained his Bachelor of Arts Degree graduating magna cum laude at the University of Pennsylvania.  He obtained his Doctorate of Medicine receiving Alpha Omega Alpha honors from the University Of Pennsylvania School Of Medicine. He completed his internship and residency in obstetrics and gynecology at Magee Women's Hospital and was elected Chief Resident in 1986.  Dr. Rubino is certified by the American Board of Obstetrics and Gynecology and is a Fellow of the American College of Obstetricians and Gynecologists.  He obtained his Masters of Medical Management from Carnegie Mellon University in 2006 and has been honored with receiving the Distinguished Alumni Award from Carnegie Mellon University Heinz College in 2021.  After serving as President of the Medical Staff of West Penn Hospital and Forbes Hospital, Dr. Rubino was appointed Chief Medical Officer of Forbes Hospital in 2008.  He held this position until 2016, when he was appointed President of Forbes Hospital.
During his tenure, Dr. Rubino has been the Senior Executive leader involved with multiple construction projects including a $35 million free standing cancer and imaging center as well as a $25 million perioperative expansion which included a Hybrid Room and Electrophysiology Lab.
Dr. Rubino currently serves on the Boards of The Hospital and Healthsystem Association of Pennsylvania, Monroeville Area Chamber of Commerce, Franklin Regional Panther Foundation, Heritage Community Initiatives and Forbes Health Foundation. He recently has been chosen to serve as the Event Chair for the March of Dimes Chefs Auction scheduled for November, 2021.  His collaboration with community donors and local foundations has led to the establishment of a Healthy Food Clinic and a hospital based Hospice Suite to assist those experiencing end of life care.
In 2021, Dr. Rubino worked closely with local government officials to establish a Port Authority bus stop and shelter on the Forbes Hospital campus. This now expanded bus service to Forbes is a vital part of getting many mission-critical employees to work and provides enhanced accessible health care to our community.
Dr. Rubino resides with his wife, Denise, in Murrysville where they raised their four children and now enjoy spending time with their five grandchildren.
OutsTanding Recent Alumni Award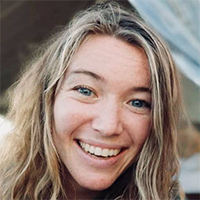 Claire Moynahan (MSISPM 2019)
Claire graduated from the College of the Holy Cross with a BA in English, and began her career in the Peace Corps, where she served as a tertiary English teacher in Guizhou, China. She returned to China as a Foreign Service Officer with the State Department and worked at the US Consulate, Guangzhou.
While in the State Department, Claire worked to apply aggregated data models to government resources to identify and protect potential human trafficking victims, and she established a working group to connect with women in the community on relevant socio-economic issues.
After completing her master's in Information Security Policy and Management from Heinz College, Claire joined Salesforce's Enterprise Infrastructure Security Engineering team. She is currently a Senior Enterprise Security Engineer, and works to ensure that proper security assurance and controls are applied to the Salesforce network and its extended eco-system.
Claire remains passionate about extending STEM education and opportunities to young women. While in Pittsburgh, she tutored middle school students as part of Heinz College's Technovation Program, and she currently serves as a mentor for students in San Francisco's YearUp initiative.
Meritorious Service Award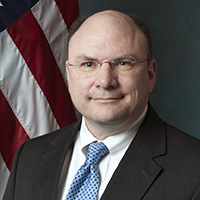 Karl Maschino (MPM 1996)
Karl Maschino is the Chief Financial Officer and Chief Administrative Officer of the U.S. Government Accountability Office (GAO), a position he has held since 2014 leading agency operations, including information technology, finance, budget, human capital, training, labor relations, facility management, security, and field operations for an agency of approximately 3,000 staff, with locations in Washington, D.C., and in 11 field offices around the country.
Prior to GAO, Mr. Maschino worked at the U.S. Department of Justice, starting as a Budget Analyst (Presidential Management Fellow) with the Justice Management Division, then moving to the Criminal Division, where he worked in several progressively responsible positions, before his career appointment in Senior Executive Service as the Division's Executive Officer. While at the Justice Department he served detail assignments as the Appropriations Liaison Officer for the Department, and as a Program Examiner at the Office of Management and Budget, International Affairs Branch.
Mr. Maschino is a graduate of the Heinz College at Carnegie Mellon University (MPM), the McIntire School at the University of Virginia (M.S. Management of Technology), and Indiana University, Bloomington (B.A. East Asian Studies).  Mr. Maschino was elected as a Fellow of the National Academy of Public Administration in 2017.
Dean's Recognition Award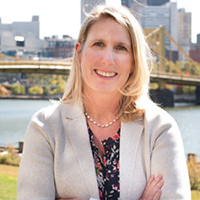 Erin Dalton (MSPPM 2003)
Erin Dalton is the Director of the Allegheny County Department of Human Services, which works to strengthen families and communities through a network of social services, care and support. DHS serves over 200,000 people each year through its community-based programs that prevent harm and address needs for family support and child development, developmental supports, senior services, housing, and protection from maltreatment.
Ms. Dalton previously directed DHS's analytics, planning, and information technology functions. She was recognized for her groundbreaking achievements in integrated data and analytics, including in using predictive risk models to bring critical information to front line staff so they could make better decisions, as well as in the unique information-sharing partnerships she built. Her years of experience in leading systems improvements earned her a reputation for expertise in child protection, housing, and criminal justice systems, as well as being a leader who relies upon community engagement to understand needs and strengths and to design solutions. Her experiences prior to joining DHS, including working for the violence prevention initiative, One Vision One Life, and her six years of work for the U.S. Department of Justice, are fundamental to Ms. Dalton's sense of what community-government partnerships can accomplish, as well as the racial disproportionality of our systems. Her national-level work for the Rand Corporation, Arnold Ventures, Bloomberg Associates and the Obama Foundation have further broadened her perspective on what government can accomplish for individuals, families, and communities.
Ms. Dalton earned a Master of Science in Public Policy and Management from Carnegie Mellon University's Heinz College. She is an alumna of the Coro Center for Civic Leadership program.
Past Alumni Association Award Honorees
---