MEIM Newsletter Fall 2022
---
Alumni Highlight: 11 Questions with MEIM '11 Kat Lenhart
by Devyn Hinkle (MEIM 2022)
This month's Alumni Highlight is with MEIM graduate, Kathryn (Kat) Lenhart who is Vice President of Sales at Any Clip, a virtual intelligence company. Kat was a 2022 speaker at the National Association of Broadcasters (NAB). What follows is a Q and A between Kat and MEIM '22 graduate, Devyn Hinkle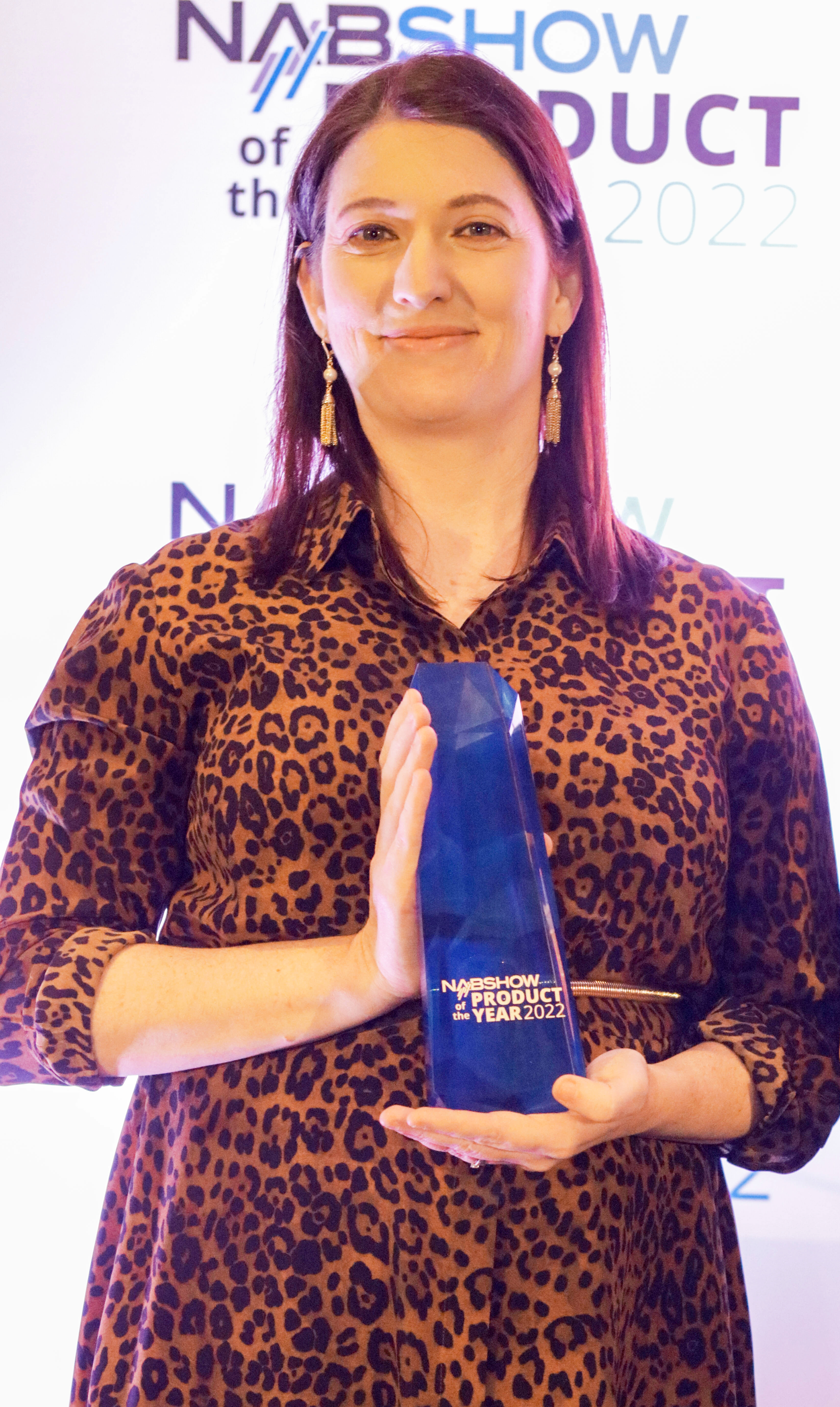 1. What is AnyClip and how would you describe what you do?
AnyClip has platform that ingests video and frame by frame, it extracts all of the metadata, anything that is seen, shown, or heard within a piece of content, we're able to understand what that is, which allows us to change how we work with video. Instead of searching for a video, we can search within a video. That has implications for anybody from editors in post-production to marketers to businesses in the travel segment. If you've got a piece of content around, say basketball, you can search for a player, you can search for an object. You can even search for brands, which is interesting because it has implications for things like contextual targeting and advertising. If I run a video of LeBron James, and you see a Nike logo, you can then automatically run advertising against this video for Nike, or maybe it's for Adidas because they want to have brand exposure to somebody who's just been exposed to Nike. The role that I'm in is the VP of sales for our external business. I lead the team that works with publishers, media, entertainment, businesses, retail, businesses, and others who are producing this content and distributing it to their customers.

2. What does your day-to-day look like?
When you are looking at how artificial intelligence is used in video there's applications across so many different areas of a business that I can go from discussing with a major Fortune 500 company about categorizing video with AI to another conversation about creating an archive or to another one about how to use speech to text more effectively. There are so many different applications to it that I am just bouncing all of the time. I manage a team of sellers, engineers, and other folks in the business to meet clients and go to these events.

3. You used to do standup. How has your background helped in your job?
I would encourage any form of presentation, be it stand-up, Toastmasters, or anything else that you can do to build that muscle for presentation. Comedy is a great way to do it. I'm a big comedy nerd myself. And although that career may not be something that's part of my current journey it always helps to have a sense of humor.

4. Can you talk about your path to being Vice President of Sales at AnyClip? What experiences led you to this role?
My original path was in television production and I was very lucky to have a number of tremendous experiences in the television segment. I took on a role I thought was interesting with MGM studios. I was the first person that was brought in to work with their domestic television networks on the digital side. Part of my time was in affiliate marketing, and then part of my time was in digital and I had a tremendous mentor who really encouraged me to be able to extend myself in this digital space. He thought I was good at it. I didn't necessarily expect to land in sales, but folks said that I had a knack for it.

5. How did you feel the MEIM program and the opportunities in MEIM helped you in your career?
The MEIM program was fundamental in my career in a number of different ways. Besides being part of a tremendous Carnegie Mellon community, I also was able to gain insight into how content is created, the decisions that go into what is made, what is not made, and get an insight into how it's distributed both the economics of it, and the legal behind it as well. It provided a holistic view as to why and how content is made, which is such a key factor of knowing how to speak to folks about their content. So many people have always been technologists and don't necessarily know how to speak to content. The MEIM program allowed me to speak to content and merge that with technology in a way where I can make impactful change and I'm tremendously grateful for that.

6. How do you think your internships and classes prepared you for your current role?
A fundamental class was Film Economics as well as the Intellectual Property class. The professors allow you to get an insight into areas that aren't necessarily part of a standard coursework. That's invaluable when being able to go back and understand the implications of a piece of technology. One thing that was not only a wonderful experience but really applicable to what I'm doing now [was being a] Television Academy intern for a live-event production. One of the things that we work [with] in my business is live events. When folks are live-streaming we actually enable things like shoppable video to create calls to action on pieces of content as they run live. Understanding what happens within that live event experience is also quite applicable.

7. One of those internships was with Conan O'Brien. Can you expand on this?
At Conan, I was with their monologue team helping craft what jokes ended up on air. You really get to see how everything is made and constructed. I went from Conan to a stint in branded content at America's Funniest Home Videos, working as a script coordinator. The big takeaway in my career and what I've learned from the MEIM program is that when you're exposed to all of these different parts of the industry you're able to have insights in how something is made and you're able to be more insightful in how you work with that industry or that production or that piece of content.

8. What are some technologies that you believe the entertainment industry should be looking out for in the future?
The things that are really interesting to me right now are the web 3.0 applications for content and looking at ownership of that content. How do we create new content and then reinforce the rights around it? I am impressed by the Royal Shakespeare company and what they're doing with live performance VR and AR creating immersive experiences. – allowing audiences to really enjoy the theater in new and engaging ways.

9. You recently spoke at NAB. Can you tell us how you were asked to be a speaker?
The NAB conference is the National Association of Broadcasters. It is one of two major global conferences bringing folks from all around the world, whether they are part of the hardware or software space in video content. One of the exciting things at the conference is the idea of intelligent content - the space we're in. When you look at that AI space, it's interesting because it's like four companies Microsoft, Google, Amazon, and AnyClip. This was our debut at the conference and I was asked to speak on a few different panels. We're also doing some product introductions We were really excited to be speaking right alongside the likes of some of the largest companies in brands.

10. What advice would you give to someone looking to go into a career in technology?
I would encourage them to dive in deep. Don't ever discount the early experience. I had a job on the weekends in the highlights department over at Fox sports watching games and typing in manually what was happening. Now, we're using artificial intelligence for that because manually typing things create a lot of errors, but even that weekend job has played a part and informed this job. That's why I say don't ever discount early experience and being able to build context that can be useful further down the road in your career.

11. Any final advice for those just starting out in the industry?
Trust the people who believe in you. I've had a couple of different inflection points in my education and my career. MEIM took a chance on me and I took that very seriously. Later in my career. I had someone who said I want you to come with me to this other company, or I want to put you up for this thing. When somebody believes in you like that, be humble, be respectful, and take it very seriously. Sometimes others can see what's in you without you knowing what you can do.