Commencement: Heinz College Celebration of Graduates
---
It's that time of year! Graduation is almost upon us, and we're looking forward to bringing our Heinz College community together to celebrate. This page will be regularly updated, so check back for the most up-to-date information.
PROGRAM INFORMATION
Date: Sunday, May 23, 2021
Time: 11:00 AM ET
Join us as we celebrate and recognize the achievements of our recent graduates!

Heinz College's 2021 Celebration of Graduates will be conducted as a virtual event. This enables us to prioritize everyone's health and safety while building on the success of last year's virtual ceremony.
The event will be broadcast via livestream on Sunday, May 23, 2021. You can view the virtual program by following the link below.
Keynote Speaker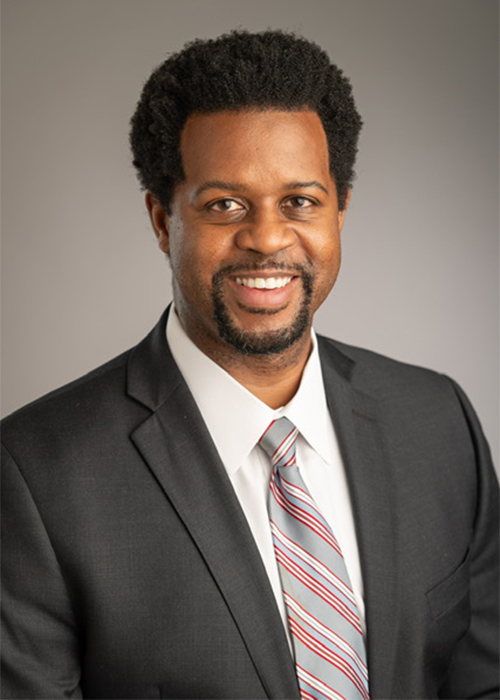 Robert Hampshire
Principal Deputy Assistant Secretary for Research and Technology Policy
U.S. Department of Transportation
Robert Hampshire serves as the Principal Deputy Assistant Secretary for Research and Technology Policy. Hampshire was previously an associate professor at the Gerald R. Ford School of Public Policy at the University of Michigan. He was also a research associate professor in both the U-M Transportation Research Institute (UMTRI) and Michigan Institute for Data Science (MIDAS), and an affiliated faculty member in the Department of Industrial and Operations Engineering (IOE).
His unique blend of engineering systems research with public policy has made him a leader in not only transportation research, but also on the disparate impact of policy decisions in transportation systems. This has led to important strides in our understanding of transportation equity. His research applies operations research, data science, and systems approaches to analyze novel transportation systems such as smart parking, connected vehicles, autonomous vehicles, ride-hailing, bike sharing, car sharing, as well as, pedestrian and bicyclist safety. His research focuses on environmental impacts, equity, and access to opportunities. His work has been cited widely, and covered by major press outlets. He has worked extensively with both public and private sector partners worldwide. He has also been a faculty member at Carnegie Mellon University and a visiting professor at Massachusetts Institute of Technology. Hampshire received a PhD in operations research and financial engineering from Princeton University.
Student Speaker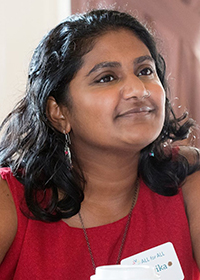 Satvika Neti
Master of Science in Public Policy and Management - Data Analytics
In her first year at Heinz College, Satvika was Heinz College's representative to CMU's Graduate Student Assembly the branch of student government representing graduate students; in year two, she served on the GSA's Executive Board as the VP of Equity, Diversity & Inclusion. Satvika works with impactful organizations in the community including Rangoli Pittsburgh and the Femisphere Codeswitch initiative, and has devoted herself to ensuring that organizations are more inclusive. She's been recognized as a TEDx speaker, a Governor's AAPI Commission honoree, and a Sprout Fund Legacy grantee. Satvika is a two-time CMU graduate, having earned her bachelor's degree in International Relations and Politics from the Dietrich College in 2016. Since then, she has worked with & started multiple city and county organizations.
Celebrate with Social Media
---
We encourage students, classmates, family members, and loved ones, to share congratulatory message, photos, and videos via Instagram, Snapchat, TikTok, Twitter, and Facebook in the weeks and days leading up to and following the event. Be sure to tag @HeinzCollege in your public posts and use the hashtags #CMUgrad21, #HNZ21, #TartanProud, and #IntelligentAction to celebrate your accomplishments and memories with your fellow graduates. We will be pulling all of the public Instagram, Facebook, and Twitter posts using these tags and hashtags onto this web page as a Memory Wall.
We are also excited to share some customized Heinz College Celebration of Graduates filters and frames that we've created to help you take your social engagement to the next level.
Instagram AR Filter

Use this animated Instagram filter to create videos or take photos that you can share across your favorite social channels.

1. From your mobile device, visit the Heinz College Instagram profile.

2. Directly above the grid of square-shaped images, you will see four icons. The "grid" icon, which is the default selection, will be white, and the other three icons will be gray. Click on the following icon, which is third from the left:

 

3. Click on the filter image that says "CMU Heinz Grads 2021" and follow the prompts on the following screen to use the filter!

4. Once you've filmed a video or taken a photo with the filter, you can save it to your camera roll to share it across your favorite social channels.
FAQs
---
We know there's a lot on your mind as graduation approaches—we're here to make sure you don't forget the details!
Below, you'll find answers to common questions regarding some graduation basics like regalia and diplomas, as well as information about the CMU's in-person commencement activities.