Carmen Yulín Cruz: The Most Resilient Mayor in the United States
---
By Scottie Barsotti
The mayor of San Juan, Puerto Rico, Carmen Yulín Cruz—a Heinz College alumna and one of TIME Magazine's 100 Most Influential People—visited campus recently and talked with Heinz College leadership and students about managing in a crisis, the importance of diversity in leadership, and technology's ability to transform communities.
Across a whiteboard in a Heinz College conference room, San Juan Mayor Carmen Yulín Cruz (MSPPM '86) sketched out her vision to turn her city into a smart city—she calls it a "transformation resiliency model."
"You have to think about how digital technology interacts with each of these needs: transportation, health services, education, water, housing, waste disposal, communications, energy, security, food autonomy, community-driven economic development," said Cruz, taking us through the diagram.
It's the kind of forethought and planning you might expect from a 21st century mayor, thinking about how to use innovations to help her citizens be healthier, happier, and more connected to the place they live.
[Leadership] isn't about your position, but your conviction.

Carmen Yulín Cruz
But Cruz is more than a typical mayor. In addition to planning for her city's future—a metro area with 2.3 million residents—she has also had to reckon with a present crisis that threatened to lurch all of Puerto Rico backward.
After Hurricane Maria struck the U.S. territory in September 2017, millions of homes in Puerto Rico were left without power, and at one point over half of the island was without water service. The scale of the damage and sluggishness of the relief efforts led to a humanitarian crisis that captured the world's attention.
Cruz became prominent in the media internationally for her impassioned pleas for help after the storm, and for her stinging critiques of the Federal Emergency Management Agency (FEMA) as well as the White House and the United States federal government more broadly.
"We are dying and you are killing us with the inefficiency," she said in a press conference at the time.
The relief efforts are ongoing on Puerto Rico, but as the anniversary of the storm approaches, Mayor Cruz believes—true to her Heinz College roots—that big data and emerging technologies can play a vital role in the rebuilding and remaking of San Juan and Puerto Rico as a whole.
"During my undergraduate, I spent four years in the liberal arts, just shying away from technology, only to later understand that technology and data mixed with common sense was this perfect combination that could be used to create policy that makes sense," she said.
We spoke to Mayor Cruz during her recent visit to CMU, shortly before the announcement that she had been named one of TIME Magazine's 100 Most Influential People.
The following interview has been edited for length and clarity.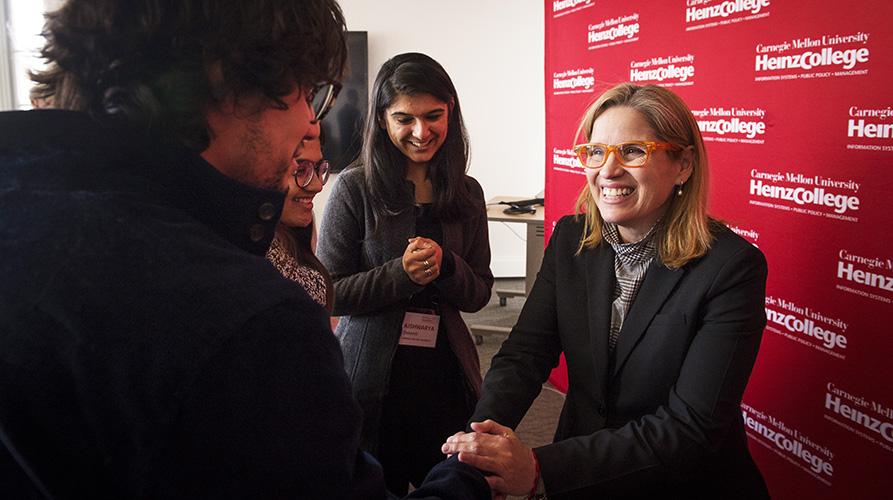 Carmen Yulín Cruz meeting with students at Heinz College
---
Heinz College: What do Puerto Ricans need from their leaders right now?
Carmen Yulín Cruz: Honesty. Leaders need to respect people enough not to play with the truth. [This summer], the government in Puerto Rico is closing nearly 300 schools, but rather than putting forth a list of the schools that are closing, they put forth a list of the schools that are remaining open. People don't need to know that. The change is going to happen in the areas where the schools are closing. You need a list of those schools so you can organize and fight it if you choose. We also need a realization that things have got to change. The political model that we've got right now used to work but doesn't fit our reality any more. Politics is so much about the mirage, driving people to run toward an oasis that isn't there. It's old. We need to sit down and have a policy discussion about how the relationship between the U.S. and Puerto Rico is not meeting the democratic standards of the 21st century. We need to figure out how to maintain our relationship, but it has to be good for us.
HC: In the aftermath of Hurricane Maria, what did you fall back on when it became clear that support was not going to be coming to Puerto Rico, at least not at the level and timetable needed to effectively mitigate the disaster?
CYC: You face the truth. You tell the truth, and you build a team that will help you change the truth. That team is not only from the government, it's from the religious organizations, the NGOs, but also other governments from cities like Pittsburgh, like New York, like Miami-Dade, Chicago, Boston, Philadelphia, so many who provided help. You realize you can't do it by yourself, so you open up a space for collaboration. And I want to say to the people who did help, like so many at CMU, that what you do matters. Your actions have life-altering consequences.
HC: Many of our students look to you for inspiration as a leader.
CYC: I don't see myself as a leader. You have to know when it's ok to be at the forefront and when it's ok to be at the back of the room. It isn't about your position, but your conviction. You have world leaders who do not inspire trust or empathy because they are incapable of putting that out there or seeing past their own biases. Something I learned at CMU was a particular way of structured thought and a process of how to engage not only diversity of culture but diversity of viewpoint. That allows you to work on multidisciplinary teams that will produce a solution that is more engaging and more durable. At CMU, we spent a lot of time figuring out what the problem is, and learned to give as much importance to the problem as to the solution. Coming up with what the problem is from an unbiased perspective, that gives people a common ground to build a solution.
HC: Speaking of trust and empathy, how do you build trust when your constituency is a city the size of San Juan and the needs are so complex?
CYC: It's a great weight on your shoulders, and you can't deliver on every front. But you don't go back on your word. If you're going to change something, you have to have a long conversation with people so they know that changing your mind is the right thing to do. It keeps me up at night, and I don't do everything right. Everything I do has to be legal, moral, and ethical, but when I don't achieve the goals that people want me to achieve, and they're right about it, I accept that.
HC: You mentioned that some world leaders don't see past their own biases, does that hamper their ability to properly define problems?
CYC: All leaders define problems, but they define them from their own perspective. The key is how do you define it from a diverse perspective so we can all think about it from one point of view even though we all as individuals have different points of view and agendas. The majority of leaders say, "it's my way or the highway." I say that sometimes. But I have no patience with people who are not doing their best.
HC: Can you talk more about the importance of diversity in leadership, as you see it?
CYC: Diversity is part of life. It's enriching. And especially in management positions, where still women are mostly underrepresented, it's important to see figures that you can identify with. Now sometimes women can identify with women and sometimes we can identify with men. A lot of people can identify with Martin Luther King, and it has nothing to do with him being a man. It's important to have diversity, and to have young women especially identify with leaders who share their experience. In Puerto Rico we'll call it "gender perspective," for example when you teach young people famous authors, that you show them [authors] of all types, so they not only see themselves represented if they're part of a particular community, but also that they see that diversity of intelligence and resourcefulness is not reserved for one group. It runs through the spectrum of who we can be. And this is even more important in fields where there hasn't been [as much diversity], like in technology. That's something that this school does so well, it enhances the skills of those who already have them, and really supports the ones who don't have those skills but want them. You have the opportunity to transform yourself.
HC: Do you have any words of advice you'd like to share with our current students?
CYC: I'm in no position to give advice. But...do what you want to do. Do it with as much passion and integrity and ethics as you can. Let other people worry about why it can't be done, you just worry about how you're going to get it done.