Hoops and Hadoops
---
By Michael Cunningham
As a rising star in the field of sports analytics, Heinz College alumnus Ashley Brio has helped build the NBA's Milwaukee Bucks into a championship contender.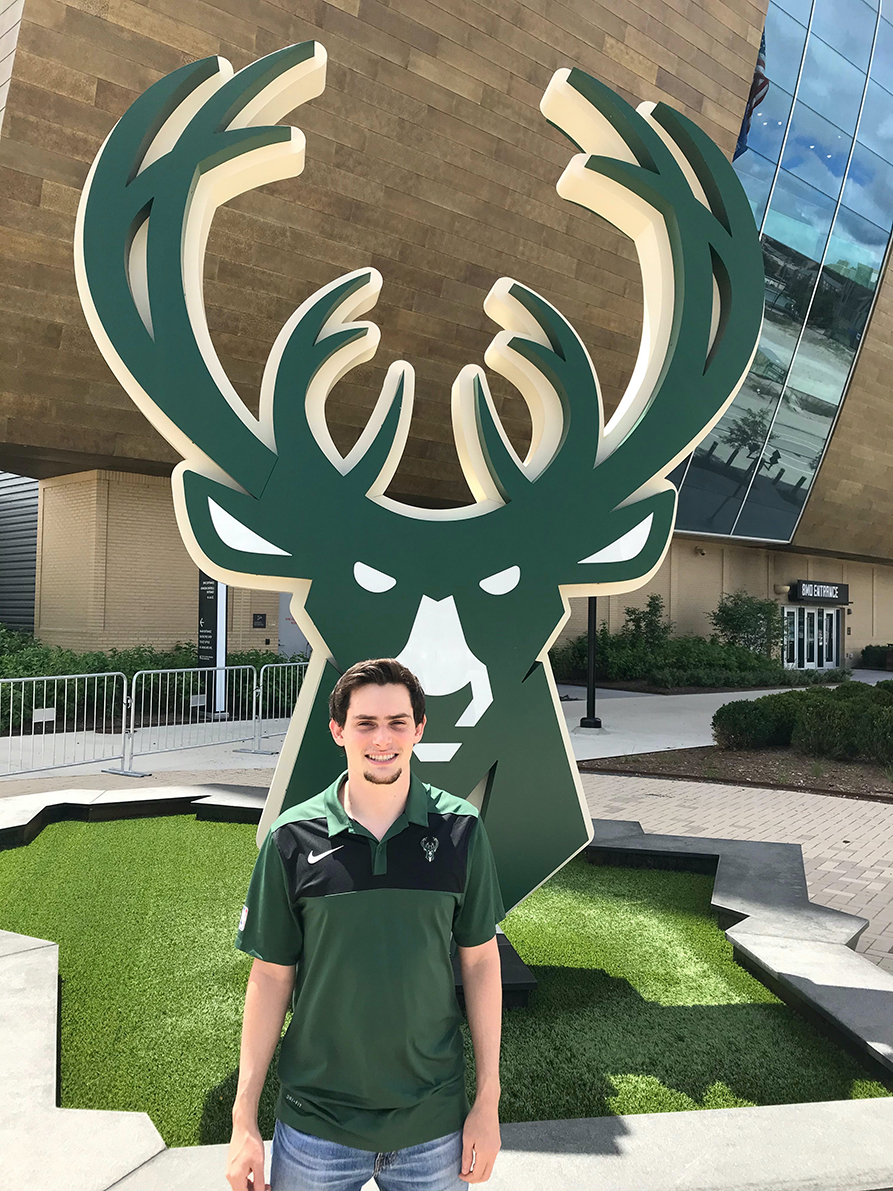 Milwaukee, Wisconsin – February 28, 2020
 In a nationally-televised game between the National Basketball Association's Milwaukee Bucks and Oklahoma City Thunder, reigning NBA MVP Giannis Antetokounmpo sets a screen for his Bucks teammate Eric Bledsoe at the top of the key, approximately 15 feet from the basket.
As Bledsoe dribbles to his left, Antetokounmpo suddenly leaves his man and explodes toward the hoop with quickness that belies his 6-foot-11-inch, 242-pound frame.
Seeing his teammate unguarded and unstoppable, Bledsoe neatly executes a pinpoint bounce-pass to an open and accelerating Antetokounmpo, who finishes the play with a two-handed, uncontested dunk.
The sold-out Fiserv Forum crowd roars its approval for the perfectly executed pick-and-roll play. But what the fans don't notice in the heat of the moment are the cameras in the arena that film the play from every conceivable angle.
These cameras track the position of the ball and each player on the court throughout the game, allowing Bucks team statisticians to glean performance-based insights ranging from how fast Antetokounmpo moves and how his speed varies between the game's first and third quarters, to how many passes Bledsoe attempts and how far he cumulatively travels throughout the contest.
And when the final whistle blows on the Bucks' 133-86 victory on that frigid Milwaukee night, and the game's digital tracking footage and data are compiled, Heinz College alumnus Ashley Brio (MSPPM '15) goes to work.
Using Data to Build a Contender
As the Bucks' Basketball Analytics Manager, Brio works within Milwaukee's Basketball Operations department, which focuses on player personnel decisions. Brio and a team of fellow analysts mine player performance data, create models, and extract valuable insights to help Bucks General Manager Jon Horst make evidence-based decisions in building the team's roster.
"We look at a combination of box scores, player statistics, contract numbers, and optical tracking data to evaluate our team and other teams," said Brio. "The idea is to identify trends and quantify any decision that can be made in a way that eliminates risks."
In a league with a salary cap, those risks can be tricky to navigate, especially when it comes to evaluating college basketball players who haven't yet proven themselves on the NBA level. In preparing for October's NBA Draft, Brio and his team are currently benchmarking the productivity of current NBA prospects against that of previous draft picks with similar player profiles.
"We'll build a model that indicates that a guy is supposed to be a top-five player,'" said Brio. "And then we'll look at where our scouts rank that player and see if the numbers line up with the eye test.
"If they don't, we'll discuss why, and try to better understand the decision-making landscape based on those similarities or discrepancies."
Hoop Dreams
Like the NBA player prospects that he is currently evaluating, Brio was once a college kid with dreams of making it to the NBA – as a data scientist, not a power forward. As a double-major in Decision Science and History at Carnegie Mellon's Dietrich College, and a Master of Science in Public Policy and Management (MSPPM) student at Heinz College, Brio was always interested in sports analytics.
"I was aware of the fact people were using stats and data science with sports, but I didn't really know how to get involved," said Brio.
That all changed when he took a course on applied data science with Professor Artur Dubrawski.
In the NBA, not many people are well-versed in data. So being able to communicate what your data is saying in a very clear way is extremely important.

Ashley Brio (MSPPM '15)
Having learned introductory data mining skills in a previous course, Brio and his classmates, including fellow project manager Dennis Sawyers (MSPPM '15), were tasked with applying those skills to a real-world, client-based project. Knowing that he wanted to work on a project based on sports analytics, Brio reached out to a former high school classmate who worked for another NBA team at the time.
"We did some preliminary work on a data mining project for their team, and in hindsight, the project was a success," said Brio.
After graduating from Heinz College in 2015, Brio returned to his hometown of Tucson, Arizona, where he worked as a data scientist for Xerox and Raytheon. He also worked as an affiliate faculty member at the University of Arizona, where he co-founded a sports analytics partnership between the Mathematics Department and the Athletics Department.
"I started off at Arizona working with some of the smaller Olympic sports, and the data wasn't there," said Brio. "So a lot of the projects involved creating data and then doing some descriptive analysis.
"Once there was some trust built, I reached out to the men's basketball team, and they were interested, so I did some work for them until I applied for the job with the Bucks."
Brio credits his time at Heinz College, and especially the skills he learned at CMU in the areas of data cleaning and data visualization, in being instrumental to helping him carve out a career path in the highly competitive world of professional sports.
"In the NBA, not many people are well-versed in data," said Brio. "So being able to communicate what your data is saying in a very clear way is extremely important. At Heinz College, we did a lot of applied work in that area, so I was able to learn by actually doing work that's relevant and not just theoretical. And then went a long way in preparing me for this job."
Beast of the East
---
The Bucks are poised to enter the 2020 NBA playoffs with the No. 1 seed in the NBA's Eastern Conference.
Fear the Deer
In Brio's two-plus seasons with the Bucks, the team has improved year-over-year in both its regular season and postseason finishes. Heading into the NBA's March shutdown in response to the coronavirus pandemic, the Bucks boasted the league's best regular season win-loss record for the 2019-20 campaign.
And as the team resumes league play in the "Orlando bubble," Brio and the Bucks have championship aspirations heading into this year's NBA playoffs, which tip off on August 17.
"We do a lot of things to prepare and understand where we are in terms of contention," said Brio. "This is a great organization that the Bucks have put together, and they've really enabled people like me to do a good job."