Alumna Connects Peacemaking and Community Building with Policing
---
By Elizabeth Speed
Dr. RaShall Brackney is often an "only." She is a Black woman working in the law enforcement field, which is exceedingly rare, leading reforms as chief of police in Charlottesville, Virginia. She finished both a bachelor's and master's degree at Carnegie Mellon University, the only member of her classes with two decades of experience working as a police officer. RaShall went on to earn a Ph.D., and she's one of only a few in her field to hold a doctorate. Now she's working in a city that was the location of the 2017 white supremacist "Unite the Right" rally, and she's leading a push for radical transparency.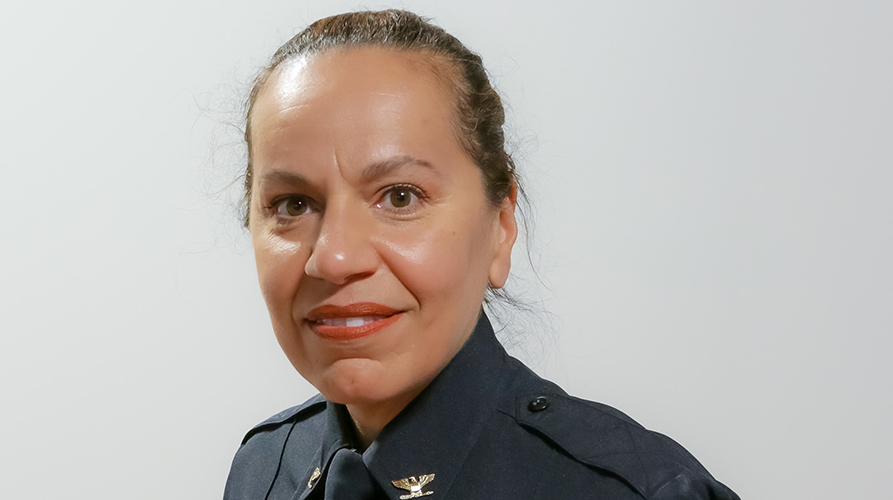 "I know what it feels like to be downtrodden. I am a minority, and I come from very poor communities," RaShall says, recalling her childhood in Pittsburgh's Homewood neighborhood. "There are so many ways in which I feel like I'm an 'other' that there's no way I would ever contribute to that feeling through the policing or the criminal legal system. We are not going to add to that pain and trauma, not if I can help it."
A Gap Year x 25
RaShall started her bachelor's degree at CMU in 1980, but left for financial reasons before finishing her senior year. Her academic interest in law led her to join the Pittsburgh Bureau of Police, which provided financial stability and opportunities to advance without degree requirements.
Over a lot of years and a lot of walks through Pittsburgh's streets, RaShall rose through the ranks. She became the commander of the Zone 1 station on Pittsburgh's North Side. Community-driven policing programs and improved relationships between police and the communities served are hallmarks of her leadership. This included writing implicit bias and cultural competency training programs, and leading a number of initiatives around social justice. She embedded social workers in her station's staff and provided wraparound services to address issues like poverty and trauma that can impact crime. Staying connected has always been important to her, and it's a tool in creating better outcomes, especially as policing has come under fire.
"In 2012, when the jury came back with the Trayvon Martin decision, the city of Pittsburgh took to the streets, and our officers were responding," RaShall says of an emotionally-charged day for police and communities. "I was the duty commander in charge at the time. I arrived at the scene in my regular clothes. I got down on my knees and talked to people, saying 'I feel your pain.' Then I pulled every uniformed officer out of there and asked them to provide a protective barrier for the community to be in that space.
"When you're part of a community and you really understand your role as a peacemaker and police officer, then you can connect with your communities. You have these creative ways in which you try to reduce the harm and the fear in your community. It's very different than if you're strictly in this career to be a law enforcement professional."
A Second Act
Almost 25 years after leaving CMU, RaShall was eligible to retire from the Pittsburgh Bureau of Police.
"I could have stayed at home and collected the pension. But I was too young and too cute to do that," RaShall laughs.
It was time to finish what she'd started.
"Around 2007, Dr. Jay Devine [associate dean for undergraduate studies at the Dietrich College of Humanities and Social Sciences] sent me an email with the subject title 'Unfinished Business.' He said he'd followed my career for more than 20 years and would I just come and talk to him. He refused to let me go," RaShall recalls with gratitude.
They were able to work out a plan to complete a bachelor's degree in policy and management through Dietrich College. Still "too young and too cute" to stop, she followed up with a master's degree in public management from Heinz College of Information Sciences and Public Policy and a Ph.D. from Robert Morris University.
"RaShall really has a special place in her heart for CMU," says Jay. "We recruited her to develop a course on race and democracy in America for the Washington Semester Program run through the Institute of Politics and Strategy. She drives up once a week from Charlottesville when it is in session. It's eye opening for students; they love her affect and approach to teaching."
RaShall retired from the Pittsburgh Police in 2015. She spent a few years working for George Washington University, but then something bigger came calling.
Journey to the "Epicenter of Hate"
"Who comes to Charlottesville after August 2017? Who does that as a Black female from the North?"
The questions that RaShall poses are good ones. The Unite the Right rally was a dark and deadly event, as extremists and Neo-Nazis took over the Charlottesville community with Confederate flags and tiki torches in support of Confederate monuments staying in place. A car rammed through a crowd, killing one and injuring 19 more. A subsequent report on the chaos of the protest found that police ignored the violence and "consistently failed to intervene, de-escalate or otherwise respond."
"I was looking at the things that were happening in Charlottesville, and it just tore at me," RaShall says. Her husband is a professor who researches the Atlantic slave trade and lynching, and they frequently converse about the intersection of policing and hate.
"When this position opened up, I said, 'Can you imagine if we change what policing looks like in Charlottesville? We could re-contour and reconstitute the narrative of policing from a position, from a city that is now known as 'the epicenter of hate.' Could we use that platform to really call for systematic and systemic change in policing? If we could change it in Charlottesville, there isn't a place that couldn't follow suit,'" she says.
RaShall was selected and started in June 2018. It hasn't been easy. She's changing the culture of the police department and has been called a lot of names in the process. But she's instituting policies that exist on the forefront of social justice work in the law enforcement field. To answer the call for transparency, she posts detailed information about all internal affairs complaints that come in against her officers, as well as the findings in the case. She created a position called a "Fourth Amendment analyst" to review every officer-initiated detention, and she posts that data publicly, too. Any time any officer uses force, the Charlottesville community can access information about it.
"We are on the forefront of what policing could look like, by the policies that I create. Carnegie Mellon gave me the skill sets to do that with a degree in public policy. And the public administration portion of that degree allows me to think very critically about how I implement those policies because the policy alone is not enough to give me the desired outcomes," she says.
"These initiatives are groundbreaking," RaShall continues. "And they are often met with internal resistance until you convey to your team, 'What do we have to hide? The more transparent we are, the more legitimate we are.' Then the community says, 'All right, I see this department is willing to be vulnerable and build up trust in the community.' We're going to have to do that because communities still do not inherently trust policing."
The work in Charlottesville is ongoing, but the culture of the department is changing, and the connection to the community is healing. For example, RaShall reserves one Saturday a month to help members of undocumented, immigrant and English as a second language communities obtain photo identification, and she's learning Spanish to communicate better. Efforts such as these work toward the ultimate goal for social justice.
"I have been in this profession now close to 40 years and hold two degrees from Carnegie Mellon as well as a Ph.D.," RaShall says. "Policing is difficult, challenging work, and there isn't a moment that I'm not challenged. And that's where the titles of 'chief' as well as 'doctor' help me. Because if you're willing to challenge me, you better be able to do that through academe or as a practitioner. But instead of negatively challenging each other, maybe we challenge each other to leverage our skills and pedigrees to champion for a more just society."