Getting to Zero
---
By Amanda S.F. Hartle
Electric bikes, buses and subways that are affordable and convenient. Efficient heating and cooling methods that slash energy consumption in offices. More plants and less meat eaten at meals.
Carnegie Mellon University alumnus Mark Chambers knows we need to move better, work better and eat better, and he's helping lead the charge for environmental and societal change in America's most populous city as the director of New York City's Mayor's Office of Sustainability.
"Fighting climate change and systemic inequality isn't about preserving our way of life. It's about changing the way we live," said Chambers, who earned a bachelor's degree in architecture from the College of Fine Arts in 2001 and a master's degree in public policy and management (concentrating on urban and regional economic development) from Heinz College in 2002.
"There's no room on the sidelines. Everyone has to contribute, and there's no way for people to take an out."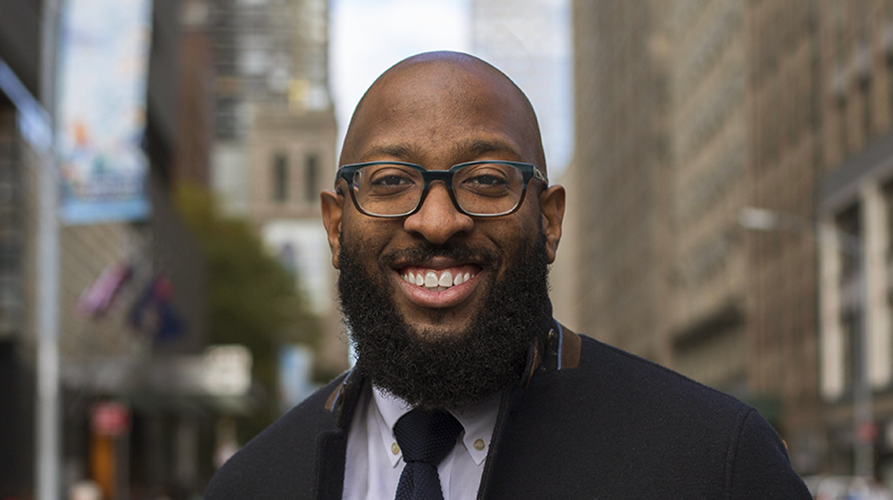 Big Apple Leadership
New York City recently passed what Mark refers to as his biggest accomplishment so far — a game-changing set of seven bills called the Climate Mobilization Act. The laws are the most significant, wide-sweeping legislation package of their kind in the United States. They focus on capping emissions for the city's more than one million buildings, requiring green roofs with vegetation or solar, and providing pathways to low-interest, long-term funding for improvements.
"It allows us to do all these things at once, give everyone the tools to be able to make changes and tackle the core and center of our climate impact," Mark says. "Public policy is an incredible lever for societal change, and a necessary one, because it creates guardrails, but it also creates shared ambition."
For Mark and his colleagues in Mayor Bill de Blasio's City Hall, that ambition is building not just the world's biggest green city but the fairest as well by imbuing their policies with justice and equality for all.
To that end, the administration has implemented paid family and sick leave, universal pre-K, health care for everyone, criminal justice reform and IDNYC, which allows all New Yorkers over age 10 to obtain a form of identification that allows access to credit unions, libraries, museums and medical care.
"We are combating social inequity and climate change at the same time. It's two sides of the same coin," said Chambers. "Unless we tackle them together, we won't be able to muster the people and the support that we need to conquer them."
"If you're really asking people to bend their passions, skill sets and time towards this existential crisis, then you'd better be willing to unlock and move some of the obstacles in their way to doing that."
Beyond socially responsible and equitable policies, Mark and his team are pursuing efforts that encourage New Yorkers to become more thoughtful and sustainable in their daily lives and interactions.
NYC ZeroWaste strives to eliminate the city's non-reusable waste by 2030 by eradicating single-use plastic bags, increasing weekly collections of food scraps and textiles by the city's sanitation department, growing "Stop 'N' Swap" events at which residents bring items they no longer need and take home something new to them for free, and other forward-thinking programs.
His office's GreeNYC program replaces millions of single-use plastic water bottles in public high schools through a partnership with reusable water bottle company S'well and inspires residents to donate blood, share COVID-19 resources with their neighbors, complete the census, use free mental health treatment and support small businesses.
Looking forward, he's also focusing on how to literally electrify transportation in the five boroughs. With shared transit options that connect to an electrified infrastructure and fit the public's needs, he believes we can eliminate widespread use of the internal combustion engine, lower pollution and reclaim public thoroughfares for pedestrians.
"I'm in great place to be able to use my skills to craft a way forward that is sustainable and one that allows for a much more equitable society," said Chambers.
Design to the Rescue
Mark traces his career path back to his days on CMU's campus, a place that tied together many parts of his personality.
"CMU's mix of high academic achievement and true creatives in the art realm made me feel very at home," said Chambers. "I think CMU has always been a place where weird and nerdy people like me can relax and truly hone that weirdness in a way that is particularly necessary out in the world."
He soon realized that in his architecture studies that design could result in so much more than beautiful structures — he could save the world.
Along with a handful of classmates, he became part of a cohort that combined an undergraduate degree in the School of Architecture with a master's degree from Heinz College's public policy program.
In every position he's had so far, whether it's been at an architecture firm or as sustainability director in his hometown of Washington, D.C., he carries lessons he learned as president of SPIRIT and head of Booth for Spring Carnival.
SPIRIT excelled at Buggy, but didn't devote much time to Booth. So, he spearheaded the group's efforts to build a 20-foot-tall upholstered recliner with super-sized items that often end up lost under furniture like an earring, candy and a watch.
"We built a coalition and engaged community members in the way that they hadn't been before," he said. "It really changed how SPIRIT members viewed Booth."
They won the competition for the first time in the group's history.
"We were able to truly take a holistic approach to letting this Carnival experience be a shared experience. It was the first time I realized what I was capable of in terms of being able to really unlock the potential of others toward a common cause."