Alumna helps lift families out of poverty, turning recycled plastic into new beginnings
---
By Scott Barsotti
Vivien Luk's non-profit WORK accompanies Haitian families out of poverty by creating dignified and sustainable jobs, as well as direct assistance and communities of support
Haiti is one of the most populous countries in the Caribbean, but it's also one of the poorest in the Western Hemisphere. Numerous political, environmental, and structural issues, as well as various public health and humanitarian crises have depressed the country's economy. Good jobs are difficult to find, and many people live in persistent poverty.
For thousands of Haitians, collecting recyclable materials (such as plastic bottles) from landfills and selling them to recycling centers is how they earn a living and feed their family. But this is a mostly informal economy, lacking protections for collectors who, in many cases, operate in precarity. Heinz College alumna Vivien Luk (MSPPM 2007) recognized that more needed to be done to help these collectors earn a fair wage, and strengthen the supply chains they support. 
She leads the non-profit WORK with the mission of accompanying families out of poverty. The use of the word "accompany" is apt: WORK collaborates closely with waste collectors—who are in essence proprietors of small family businesses—to understand their personal needs and provide targeted services rather than a one-size-fits-all model. Services may range from securing health care, to placing children in school, to direct financial assistance like food stipends, grants, and microloans.
The organization's first staff member, Luk is now WORK's Executive Director; in addition to serving families, WORK cooperates with recycling centers in Haiti, as well as partner brands that buy Haitian plastic through their First Mile initiative.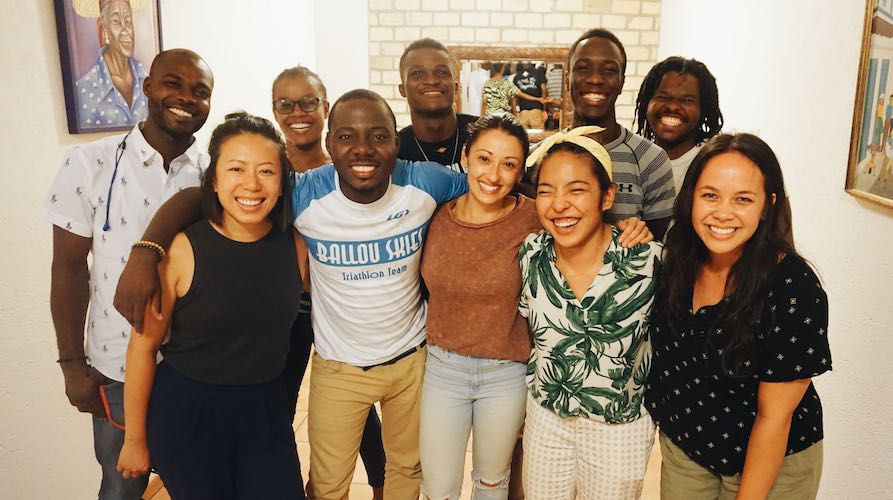 First Mile supports plastic collection and recycling in Haiti, as well as Taiwan and Honduras, and connects that supply to retailers to be turned into consumer products. For example, HP uses recycled plastic from Haiti in their ink cartridges; Aerie uses fabric spun from recycled plastic in some of its apparel; and footwear companies like Puma, Timberland, Reebok, and Converse also buy from the First Mile supply chains.
"The work that we do ensures that these supply chains are viable and responsible. We're building the capacity of the supply chain so the quality of the plastic is higher, and the end-buyer will pay more for it," said Luk. This is a vital part of WORK's efforts, as it raises the incomes of collectors. "We want to make sure everyone has a dignified job, and that means increasing the level of earnings they yield per day. We do everything we can to make sure the collectors can sell their supply for a consistent price and there's no price gouging." 
That increased earning potential is critical. The dignity of work is central to WORK's mission, and ensuring that collectors' labor translates to improved livelihoods. The impact, however, goes far beyond economics.
"In some families, children are collecting in the landfills because it brings their family income they need to survive," said Luk. "We work to remove children from the supply chain and put them back in school. At the same time, we ensure that we replace whatever they're providing for their family—some are the main care providers."
Some of the families live on the landfill they collect from. Luk says her organization has helped many of those families relocate and move off the landfill, which immediately improves quality of life. 
ALL DEVELOPMENT IS LOCAL
Luk came to Heinz College because she was interested in international development and wanted to make a difference in that space. She always saw herself approaching the field from a legal angle and was considering law school when she learned of the MSPPM program. 
Early on in her time at Heinz, a mentor used a phrase that changed Luk's entire perspective: All development is local.
"I took that advice and dove into development in the Pittsburgh scene," she said. "I took any development courses I could take at Heinz to understand development at the local scale, so I could apply that to the international context." 
Her first job out of grad school was with the Forbes Funds, a Pittsburgh nonprofit helping community development, economic, and health and human services organizations with capacity building. That showed her what it was like to be engaged in local development.
"When I got to Haiti, that idea of 'all development is local' really spoke to me."
SCALING UP DURING COVID-19
Luk says that Heinz College taught her to move within systems and adjust them for change—utilizing existing resources, collaborating across stakeholders, and identifying key partners.
"We started with six families, and we wouldn't take on any others until we were certain we could serve those first  to our intended outcome six," she said. "We had to come up with policies that would help us scale the work. We spent our first several years building out formalized programs and policies that would set our families up for success."
When we respond to the needs of a family, they help lift up the community in ways we couldn't imagine.

Vivien Luk
That patience paid off. While the COVID-19 pandemic caused a temporary pause in their programming, WORK has expanded their network of families during the pandemic. They've ramped up their efforts to ensure their families can protect their health while maintaining their livelihoods. WORK provided financial assistance for essential needs, PPE, hand washing stations and made sure every household had a working phone so communication and network support would continue. 
"We took all our work online, and established a leadership structure in the community so we could distribute information and there was a way for information to come back to us. Our priority is to make sure that everyone has what they need to keep themselves safe in the pandemic, whether they're working or in school," said Luk.
Her hope is that the progress made by these families and their communities aren't wiped out by COVID. While the pandemic has disrupted supply chains around the world and had some impact on demand for plastics, the families supported by WORK have continued to make positive gains. 
And that's more important than ever. Luk talks about the cascading effects of lifting even one family out of poverty—effects that are becoming more apparent every year. 
"The waste collectors we work with are not just taking care of their own families," said Luk. She talks about one of the families in the network: as their household income increased, the mom started her own small business. Her area was a food desert, so she started the first grocery store in the community. Her business serves the entire community, and helps people get fresh food and save money on travel. 
"She also turned around and helped us start satellite grocery stores with other families in neighboring communities. Those are the ripple effects we're starting to see."
Luk adds that the family's eldest children have recently graduated from high school and will attend college, so the impact could extend to future generations. And that's just one family's story.
For Luk, it comes back to having the right policies in place, and a focus on sustainability. Accompanying families out of poverty is not just about giving them resources, though that's important, too. It's about strengthening systems and structures so people have a foundation that truly supports them. No one has to go it alone.
"When we respond to the needs of a family, they help lift up the community in ways we couldn't imagine. For us, it's about committing to the end."

--
WORK is getting ready to launch its 2021 Run Across May, a version of the annual Run Across Haiti event. The Run Across Haiti is an annual awareness-building and fundraising initiative that challenges participants to a 200 mile adventure run across Haiti. The Run Across May event, created in 2020 during the COVID-19 pandemic, allows supporters to participate in the Run Across Haiti from anywhere in the world.