Alumna Uses Analytics to Improve Health Across Allegheny County
---
By Tina Tuminella
Erin Dalton's been described as a creative thinker and innovator committed to the public good—qualities proving extremely useful in her new role as the director of the Allegheny County Department of Human Services (ACDHS).
A 2003 graduate of Carnegie Mellon University's Heinz College of Information Systems and Public Policy, Erin is a county government veteran who had 13 years of experience at ACDHS before being promoted to director in January 2021. The scope of her department's work is daunting to say the least, especially during the COVID-19 era. ACDHS provides services in areas including mental health, child protection, aging, and preventing incarceration and homelessness—and that is the short list. Human Services is the largest county department, serving approximately 210,000 people (that's about one in six county residents) and employing more than 900 people with an annual budget of roughly $1 billion. It's a lot. A whole lot. But Erin is up for the challenge.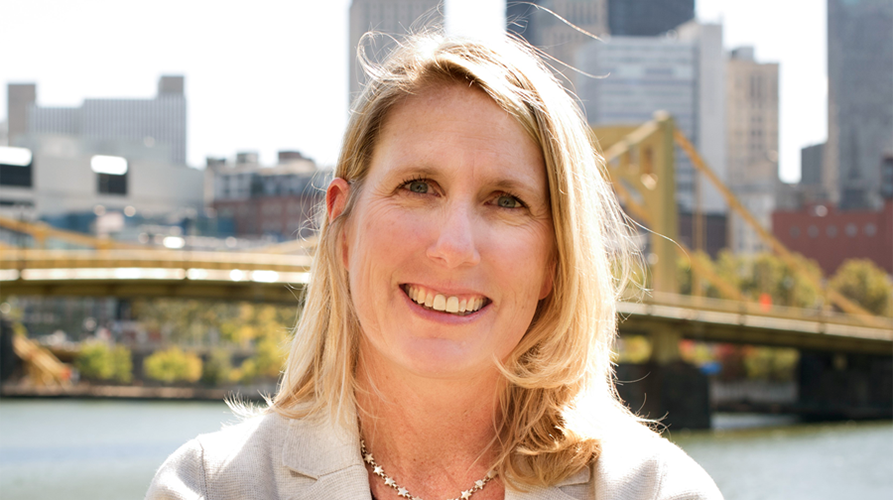 Fast and Steady Wins the Race
Erin was a Division I cross-country runner as an undergraduate. She finds running to be relaxing as it allows her to process her thoughts. A triathlete who prefers sprint distance running, she draws several comparisons between her work and her sport. There's a lot of training, there are always unforeseen circumstances on the route and, once a race is finished, another one looms in the distance. Starting out in her line of work, she saw the correlation between running triathlons and resilience.
"Running at a reasonably high level, no matter how good or bad, is painful. It's pushing your body to its limits. I think that's good for you in your work, too," she says. "As anyone knows, some of this work is hard and you have to take the long view. I've spent a lot of time on important [projects] that were not at all enjoyable, but I knew they were worth doing. Work like that forces that same kind of discipline. You can acknowledge that you got through something difficult. You can be proud of the accomplishment."
When announcing her promotion, County Manager William McKain noted that Erin possesses the "right temperament" for the job.
"I think I have a sense of balance," she says. "Like anything, there are always positives and negatives. I don't sweat the small stuff, and I think that's helpful. I try to keep perspective on the situation, which hopefully means that the people I work with aren't constantly drawn into unnecessary chaos and crisis."
Erin continues to give back to Heinz College as an alumna, working with faculty and students, participating in speaking engagements and attending networking events.
"Erin embodies the very best of Heinz College. She is a compassionate data-driven leader working to solve human problems," said Ramayya Krishnan, dean of Heinz College. "She inspires our students and alumni alike and is a model for public servants and civic technologists nationwide."
"[Allegheny County] is one of the only places that have been extraordinarily public about the process and data. This is the model that's talked about — the model with 256 pages of documentation online. Nobody else does that, and we've been very transparent about it."

Erin Dalton (MSPPM '03)
Fighting the Good Data Fight
Erin's even-keeled, data-driven approach to problem solving was honed at CMU, and her current role offers her daily opportunities to put it to work.
Under Erin's leadership, the department's analytic infrastructure has grown from one analyst to six teams. She developed AlleghenyCountyAnalytics.us—a platform where publications, interactive visualizations, data and tools can be accessed by the public. She also expanded partnerships with public schools, emergency services, courts and healthcare systems to integrate care and improve outcomes for the citizens of Allegheny County.
Erin's focus on using data to assist the department in making life-impacting decisions has been key to the department's success.
"Unique to Allegheny County is turning data back to the people who gave it to us. I don't know if there's another jurisdiction where clients can get their own integrated services record back," she explains. "Data is critical to decision making at the operational level and at management levels as well."
The Department of Human Services supports people throughout their lives and often works with multiple-generation households with varying needs. They do the expansive work of integrating care into families, whether the entry point is through child protection, rental assistance or elder adult services. Erin views her department as a funder, a planner and a quality monitor.
Allegheny County's use of data analytics is looked up to as a national model, and, because of her efforts, Erin is considered a national expert in the areas of child protection, housing and prevention services.
"[Allegheny County] is one of the only places that have been extraordinarily public about the process and data," Erin says. "This is the model that's talked about—the model with 256 pages of documentation online. Nobody else does that, and we've been very transparent about it."
Pandemic Policies on the Fly
Erin and her team knew that communication would be crucial during the pandemic, and the department gave daily updates for several months. It continues to hold weekly updates. In fact, in 2020, the department developed a county health matrix, which quickly pointed to where personal protective equipment was needed and whether people in the county were getting sick.
"I think the pandemic was super scary for everyone, and us, too," she says. No one knew what was going to happen, but in some ways, that allowed for innovation."
For example, the department established a safe haven hotel and several other facilities where people could safely quarantine. The department had never rented an entire hotel before and had to figure out how to do it—quickly. A second pandemic response involved establishing 67 learning hubs with help from community partners. Learning hubs were critical because they provided safe places where children received two meals a day, had assistance with virtual learning and socialized with other children safely.
The Give and Take
Erin continues to learn from interactions and experiences with faculty members and CMU analysts, which help her continue to grow her own skills and career, and from students—graduates she says "make great hires."
"This is a tough job. There are all these deep fields of study—whether it be in child welfare or housing policy—so it's vast in opportunities to learn and grow," she says. "We've had great leadership to allow us to innovate. It's really hard to walk away from something that's flexible and wide ranging. I'm pretty lucky."