Only Natural: Heinz Alumna Puts Her Green Thumb to Work Nurturing Pittsburgh Gardeners
---
By Kristy Locklin
Denele Hughson's career aspirations blossomed at Carnegie Mellon University.
After studying political science at the University of Pittsburgh, she took a stab at the LSAT, but ultimately decided her passion wasn't law. She wanted to work with young people in the great outdoors.
Inspired by her mother, a teacher, Denele served as a KEYS Service Corps AmeriCorps volunteer at a local high school and mentored kids at Community Empowerment Association, the Student Conservation Association and the YMCA before rooting herself at CMU's Heinz College of Information Systems and Public Policy where she earned a master's degree in public policy and management.
"While I was a student at Pitt, I worked as an afterschool tutor at Westinghouse High School," she says. "I saw the importance of having a safe space for students outside of regular school day. My experience at Westinghouse was the first step on the path to working with students in outdoor spaces."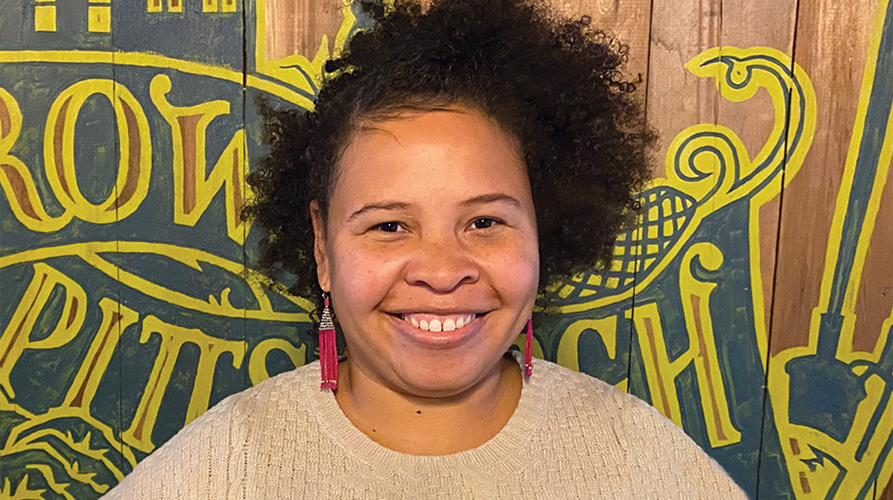 The 2013 graduate recently became executive director of Grow Pittsburgh, a nonprofit resource for backyard, school and community gardeners as well as urban farmers. Denele served as the organization's education and outreach coordinator for a year until she was promoted to director of farm education, a title she held for five years.
Since 2005, Grow Pittsburgh has supported more than 100 community gardens throughout the region. It also runs agricultural sites at Braddock Farms in Braddock and Shiloh Farm in North Point Breeze, as well as a greenhouse spot at The Frick Pittsburgh.
The organization's Garden Resource Center, a tool-lending library and materials depot in Larimer, is open to any individual or group within Allegheny County.
COVID-19 really tested our food economy. We saw more interest in learning how to grow. Your backyard became the safest place to get food.

Denele Hughson (MSPPM '13)
Denele grew up in Pittsburgh's Homewood neighborhood and helped establish a community garden there to provide residents with fresh produce and teach local kids about agriculture.
When the pandemic shuttered schools and halted the majority of in-person garden projects, Grow Pittsburgh offered virtual classes and teacher training sessions. Denele's excited to get her hands dirty again at more than 40 school gardens throughout Pittsburgh. She thinks students are looking forward to it, too.
"COVID-19 really tested our food economy," Denele says. "We saw more interest in learning how to grow. Your backyard became the safest place to get food."
Because not everyone has a plot of land to farm, Grow Pittsburgh staff worked hard over the past year to keep urban areas supplied with fruits and vegetables. The organization set up a roadside stand at Braddock Farms, extended hours at its other stands throughout the city and partnered with East End Food Co-op to transition its in-house sales to a contactless pickup-and-delivery format. In-person sales resumed this spring, both at Shiloh Farm and at Garden Dreams Urban Farm & Nursery, Grow Pittsburgh's flagship site and agricultural hub in Wilkinsburg.
In addition to bolstering its K-12 programming, Grow Pittsburgh is focused on revamping the 3/4-acre green space at Garden Dreams. It will soon boast two greenhouses with an automated irrigation system and climate-control technology, a community gathering space, a rain garden and beds of perennials and medicinal plants. It is expected to reopen over Mother's Day weekend.
"It's going to be a space for experimentation and learning," Denele says.
Garden Dreams also will offer a workshare program to support urban farmer training, workshops and a high school internship program. The skills students learn at the site can be applied to all aspects of the food service industry, from farming and restaurant management to the culinary arts.
Denele says people can support urban growing initiatives by getting to know their local farmers.
"There are community gardens all around the city that you can get involved in," she says, "or you can plant your own."
Grow Pittsburgh's website provides tutorials on how to turn your yard into a cornucopia of wholesome eats and mood-boosting colors, textures and scents. The therapeutic benefits of gardening, she says, should not be overlooked.
Given Denele's sunny disposition, it's safe to say the hobby's not only good for the earth, it's good for the soul.