History Maker: Real Estate Leader, Heinz Alumna, and Western PA Native on the Leadership Value of Personal Connection
---
Heinz College alumna Anne Lewis (MPM '90) is a recipient of this year's Heinz History Makers Award—given by the Heinz History Center to leaders who have changed Pittsburgh for the better. We spoke with her about the impacts of service and giving, and creating partnerships for lasting change.
The first time you meet Anne Lewis, you get an overwhelming sense of connection. Though one of Pittsburgh's most prominent business leaders who has been honored as a Distinguished Daughter of Pennsylvania by the Governor, her look-you-in-the-eye warmth is unpretentious in a way that is vintage Pittsburgh. We sat down recently with Lewis, the board chair of Oxford Development Company and co-owner of some of Pittsburgh's most iconic buildings, to discuss leadership and philanthropy in her native home.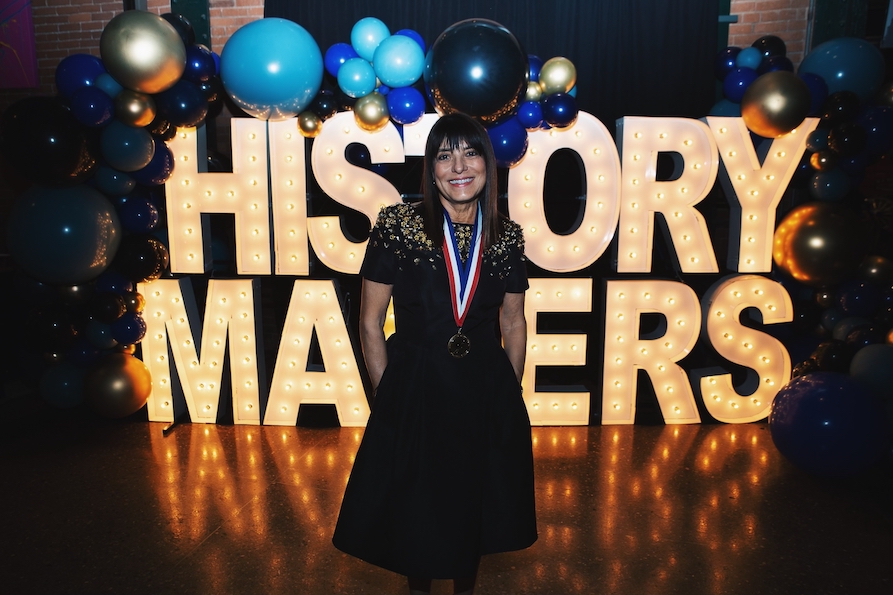 In addition to running Oxford, she has served the Pittsburgh Foundation, the Buhl Foundation, the Children's Museum of Pittsburgh, and many other educational and cultural institutions—including Heinz College and the Pittsburgh Promise, a nonprofit that provides $20,000 scholarships to graduates from the Pittsburgh Public Schools who meet attendance and GPA goals. The Promise has supported over 10,000 Pittsburgh students.  
For the impact she's had on the Pittsburgh region through tireless community leadership and philanthropic development initiatives, Lewis is a 2021 recipient of the Heinz History Makers Award, a distinction given annually by the Heinz History Center to individuals that make Pittsburgh a better place to live, learn, and build a future.
I don't think you can accomplish very much in philanthropy (or anything else) without leaning heavily on the power of partnerships. Forging partnerships—and cultivating personal relationships—are what leadership is all about.

Anne Lewis
The Heinz History Center and Heinz College both take their name from the same person: the late U.S. Senator from Pennsylvania, H. John Heinz III, whom Lewis considers a kindred spirit.
"Maybe thanks to our mutual association with Carnegie Mellon, I've always tended to share his collaborative, pragmatic approach to helping our region and getting things done with a minimum of fanfare," she said. "His legacy lives on, of course, in Heinz College, and also in the philanthropic efforts of his wife Teresa, whom I'm proud to know and greatly admire."
The following interview has been edited for length and clarity.
Heinz College: Do you believe philanthropy, at its heart, is about solving problems?
Anne Lewis: I think it's both about solving problems and about building partnerships and relationships. The two really go hand in hand.
During my time on the board of the United Way, I discovered the writing of Alexis de Tocqueville, and they had a big influence on my thinking.
And although he places philanthropy at the center of the American experiment, de Tocqueville never even mentions the term. Instead, he talks instead about "associations"—partnerships that help mobilize financial and volunteer support, not only to solve particular problems but also to strengthen the bonds of community.
Voluntary associations, as de Tocqueville understood them, had one big advantage over government—namely that while public policy efforts are constrained by legislation that restricts their scope, voluntary organizations are infinitely more flexible. They can re-invent themselves and seamlessly adapt to changing needs. That gives them an agility and a responsive nature that bureaucracies don't typically have.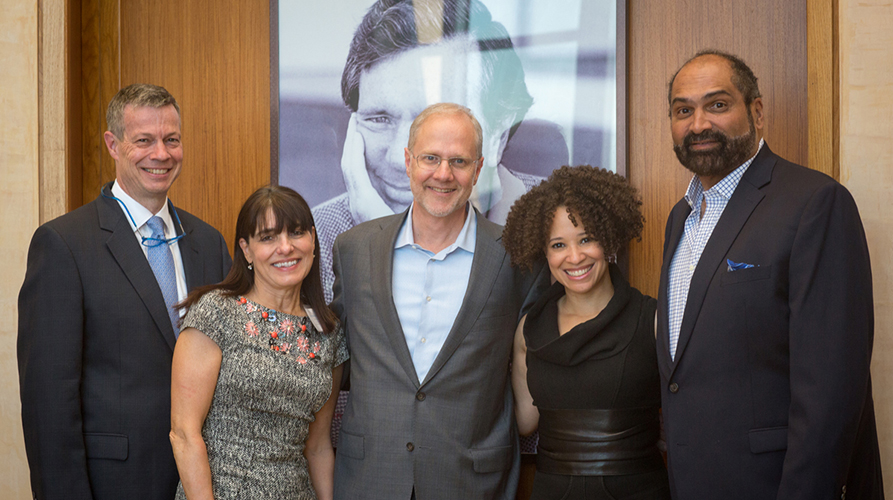 HC: How does an understanding of how to nurture partnerships and/or lead organizations help someone who wants to make an impact in philanthropy or community leadership?
AL: I don't think you can accomplish very much in philanthropy (or anything else) without leaning heavily on the power of partnerships. Forging partnerships—and cultivating personal relationships—are what leadership is all about.
The first thing I think you discover when you're thrust into a leadership role—as I was years ago as board chair of both Fox Chapel Country Day and the Children's Museum, or later on as board chair of Oxford Development—is that you're never going to get anything done by yourself.
You need to attract people around you who can give you sound advice, as well as those people who Malcolm Gladwell calls "Connectors" who can get things done. That's especially true in fundraising, where you need to look for major donors (e.g. corporations, foundations) to build the foundation of a capital campaign and generate the momentum for other donors.
You're just never going to build a $31 million Children's Museum, or $74 million New Pittsburgh Playhouse at Point Park University, without a huge number of partnerships and relationships. Or today at the Pittsburgh Promise, we're raising $150 million in our capital campaign, with only $41 million left to go.
You don't create a regional asset—which is to say something with a lasting impact in a community—without a whole web of partnerships and relationships that will not only establish the institution, but can sustain it for years to come.

HC: There are so many problems ranging from global to hyperlocal, and so many issues deserving of support. What advice do you have for someone who feels like they aren't sure where to begin or how to choose where to direct their energy and resources?
AL: I think the place to start is with yourself. What am I good at? What am I passionate about? Where would I want to make a lasting impact?
Every one of us has unique skills we've acquired over the years—abilities that add up to make us who we are. So, before we start considering worthy causes, we first need to consider what we can bring to them—what role we can actually play.
The second question I think you need to ask is: How does this story end? By which I mean, at what point in this effort could I regard myself as having succeeded in what I set out to do?
With many I've led, those endpoints were pretty clear from the start. You reach your goal, you build the building, you cut the ribbon. You finish out your term, and then you move on.
But in every philanthropic endeavor there comes a time when you need to pass the baton. And that's a process, a transition, not a one-time event.
That's where mentoring comes in. For me, mentoring is essential to any organization that's "built to last," be it a local nonprofit or a for-profit company like Oxford. You need to preserve not only your financial capital but your human capital as well.
If you recognize from the start that you need to build a transition phase into your role as a leader, you can save yourself a lot of frustration.
HC: What has your relationship to Carnegie Mellon and Heinz College meant to you, and how has it influenced your approach to leadership in our community?
AL: My relationship with Carnegie Mellon is one that's grown and deepened with time.
As a student in the late 1980s at the School of Urban and Public Affairs (SUPA, now Heinz College) was a laboratory where I could put into practice the tools I discovered in the classroom. I actually wrote my first grant proposal as a CMU student, for the Pittsburgh Center for the Arts—and it was accepted, by the way. That gave me a huge dose of confidence that stayed with me long after I graduated. 
Later, a Heinz colleague and I established the Harry Faulk MPM Scholarship Fund—named in honor of one of my own greatest mentors—so more students could enjoy the same benefits I was able to at Heinz.
Leadership for me has always been about gratitude for what you've been given in life and sharing those advantages with others younger and less fortunate than yourself. That, for example, is what led me to the Pittsburgh Promise and to Point Park University.
In many ways, that leadership journey started with Harry Faulk and Heinz College. 
HC: Heinz College's founding principle is to educate students for "Intelligent Action." In your view, how does community leadership intersect with the concept of intelligent action?
AL: The whole idea of training students in "intelligent action" is to equip graduates with the tools they need to solve problems in the real world. 
Those problems don't conveniently fit into the categories that traditional academia has created: sociology, economics, computer science, engineering, and so on.
If you graduate from a traditional university with an advanced degree in one of those disciplines, are you really equipped to serve the community? Maybe in a very narrow way, but what about the aspects of the problem that fall outside your specialty?
I think that's why Heinz graduates have been so successful in serving their communities. Because they've been trained to reach across disciplines to create positive change. There's an old saying: When all you have a hammer, everything looks like a nail. Heinz College doesn't send you out into the world with a hammer. It gives you the full toolbox … and a way to use all those tools together to build stronger communities.
And that's really what intelligent action is all about. 
HC: What's on the horizon for you?
AL: Great question. I wish a had a better answer. You never know when opportunities will come knocking.
But that said, I'm continuing to build on the work I've been doing, both as board chair at Oxford Development and as part of the leadership of so many outstanding local nonprofit organizations, like the Pittsburgh Promise. Since 2007, when Saleem Ghubril invited me to help lead the Pittsburgh Promise, it's grown from being an innovative experiment in public-private partnership to being one of the biggest regional assets our city has to offer. That's a lot of progress in 15 years, and of course I plan to be part of it for as long as I possibly can.
Due to the pandemic, the past couple of years have been tough ones—not just for the Promise but for every organization in our region—and I know we'll continue to feel the aftershocks for years to come.
At Oxford, for example, we've learned to adapt quickly to fast-moving changes in the real estate market: the rapid growth of remote workforces, for example, and the need to create safer workspaces where people can feel confident to meet—and to build the kinds of leadership and cooperation that only a physical meeting space can provide.
In the same way, Pittsburgh's non-profit community needs to respond to the major economic and sociological dislocations brought on by COVID-19. 
The problem with horizons, of course, is that by definition you can't see over them. There's always some new challenge you hadn't foreseen. For me that's what keeps things interesting, and why, to borrow Andrew Carnegie's famous phrase, "my heart is in the work."