Alumna Has Statewide Impact on Health
---
By Scottie Barsotti
Alumna Keara Klinepeter told us "I always knew I wanted to work on hard, systemic problems." She is leading a statewide team in data-driven efforts that could reshape public health in Pennsylvania for generations.
UPDATE (4-22-22): Since publication, Keara Klinepeter was selected to serve as Acting Secretary of the Pennsylvania Department of Health by Governor Tom Wolf. She served in this critical role from December 2021 through April 2022.
"When I was 11, my dad suffered a massive stroke. And the only reason he survived is that we were able to get him to an emergency room quickly," said Keara Klinepeter (MSHCPM '13), recounting a story that solidified for her the importance of health care access.
Klinepeter first started working with the Pennsylvania Department of Health as Director of Rural Health Innovation, primarily focused on the state's Rural Health Model which seeks to test alternative ways to increase access to high-quality care and improve the health of rural Pennsylvanians.
"Working on the Rural Health Model was life-changing," she said. "The idea that not everyone would have access to the kind care that saved my dad because of where they live really struck a chord."
Both during her time at Heinz College and following graduation, Klinepeter worked in a series of roles with the MITRE Corporation that mainly centered on health care and national security. When she found the opportunity to put her policy, strategy, and data skills to work in a direct public health role, she jumped at the chance.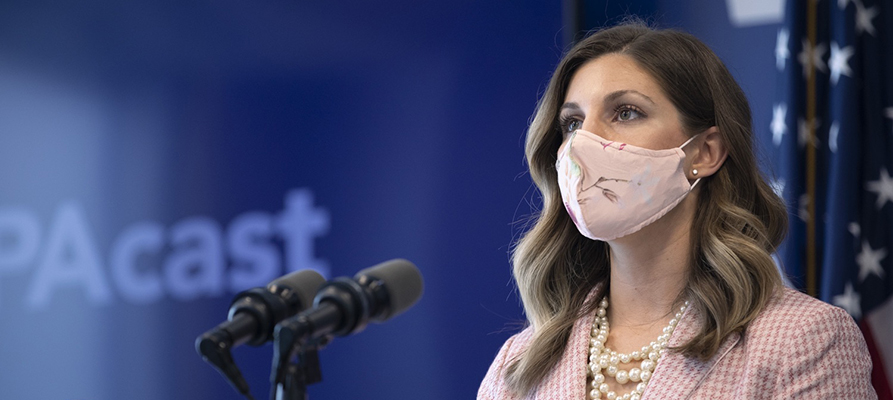 "The Rural Health Model felt like the right fit and the right mission," she said. She tells a story of a hospital in northeastern Pennsylvania that was in financial distress. Klinepeter's team found a way to work with the hospital, the state, and federal health officials to maintain critical emergency services rather than allowing the hospital to close entirely. "That's so important in these communities, to have access to emergency services. And as our team was so invested in rural health, it was very meaningful to be able to say, 'we've never done this before, but we're going to find a way.'" 
Three years later, Klinepeter is the Commonwealth of Pennsylvania's Executive Deputy Secretary of Health. Where previously her work had been laser-focused on specific communities, now she takes a statewide view of health care quality and access.
"You have access and cost issues in both rural and urban settings, they just show up differently," she said. For example, an urban patient may have to wait several months to see a specialist; meanwhile, a rural patient may have to drive several hours to do the same—and Pennsylvania is known for its challenging topography of mountains and valleys, particularly in rural regions of the state.
These are complex problems that need to be tackled holistically. But for Klinepeter, that's the point.
"When I came to Heinz College, I knew I wanted to work on hard, systemic problems," she said.
The challenges of public health leadership in the age of COVID-19
After several years working on the Rural Health Model, Klinepeter was approached in early 2020 to serve as a special advisor to Dr. Rachel Levine, the former PA Secretary of Health who now serves in the Biden administration.
Klinepeter was only in her new role for about six weeks when the COVID-19 pandemic began in earnest in the United States. That changed everything. New information bombarded officials daily. Guidance had to be updated, amended, and communicated constantly. Resources were stretched. The situation was frightening, fluid, and unpredictable. And working in close conjunction with Governor Tom Wolf's office meant that her work was intersecting with politics in brand new ways.
"Working with Dr. Levine, we would always try to be strong advocates for 'pure public health' when discussing strategies with the Governor's Office. But the reality is that pure public health isn't always workable for reasons that can be powerful and difficult to overcome," said Klinepeter.
"It requires a lot of listening and approaching situations with respect in order to overcome issues that can be emotional." To that end, she adds that Professor Linda Babcock's "Negotiation" course was one of the most useful classes she ever took. 
As Executive Deputy Secretary, her policy and management skills are proving to be crucial. The scope of her role is significantly larger than it was as a special advisor, as she leads operations for the entire Department—including the budget, which is even more important than usual right now.
"The department is getting roughly 2.5 billion dollars in stimulus funding from the federal government," said Klinepeter. "It could shape public health in the Commonwealth for decades to come. Thinking strategically about how to spend those dollars responsibly and transparently is such an incredible opportunity."
Klinepeter said a public report on the department's budget will soon be available, but that some priorities include resourcing the state's public health laboratory and improving data infrastructure so state databases can communicate with one another.
"Heinz College prepared me to ask the right questions of the right people on these kinds of data and technical projects," said Klinepeter. "I speak that language so I can go into those conversations and projects with confidence." 
Moving forward, as we continue to deal with the impacts of COVID-19, Klinepeter hopes that not only do Pennsylvanians stay vigilant where the pandemic is concerned, but also that we don't lose sight of some of the ongoing and long-term health issues affecting communities across the state. For example, the state saw an increase in opioid overdoses during the pandemic—Klinepeter reminds us that opioid abuse continues to be an epidemic of its own that requires resources and focus. She also cites an increase in mental health concerns among children, and that health officials need to pay close attention to the ramifications of the pandemic on kids in the coming years.
"And I would be remiss if I didn't point out the mental health impact of the pandemic on our public health workers themselves," said Klinepeter. "I can't thank my colleagues enough. They are heroes, as are the doctors, nurses, and care workers on the frontlines."