From Ads to X-rays, Alumnus Harnesses the Power of AI
---
By Michael Henninger
On the cutting edge of a frontier, Ophir Tanz approached his moment in history with vision — specifically, computer vision.
Tanz, a Carnegie Mellon University alumnus, announced earlier this year that the Food and Drug Administration cleared his company Pearl's software, Second Opinion, the first artificial-intelligence tool to help dentists detect conditions in patient X-rays.
"Around 2010, we started having this renaissance of modern machine learning and AI. We were in a position to really jump on that technology," Tanz said.
With bachelor's and master's degrees in information systems from the Dietrich College of Humanities and Social Sciences and Heinz College of Information Systems and Public Policy, Tanz made the most of his time on campus.
"CMU is very multidisciplinary with a lot of really interesting folks," Tanz said. "It gave me a good basis for both the engineering side of things — programming, computer science — and also a taste of the reality of entrepreneurship."
In 2008, four years after graduating, Tanz created GumGum, a company that used AI to deliver web advertising — without the use of personal data.
I wanted to genuinely improve lives in a fundamental way. With Pearl, we can affect billions of lives, in a very real way.

Ophir Tanz
GumGum's revolutionary approach leveraged the idea that there was value to be gained from the context of a webpage. Instead of tracking a user's history through cookies, GumGum's AI analyzes the content of a page and delivers advertising based on the material.
"If I'm reading an article about a Tesla, I'm probably interested in owning one. There's a lot to be known from the context of the moment and being able to understand that context," Tanz said. "GumGum has always been very true to this ethos, while respecting user privacy."
GumGum's success led to the creation of a sports division, which used computer vision to calculate the exposure to and value of sponsorships.
Meanwhile, Tanz kept seeing new opportunities.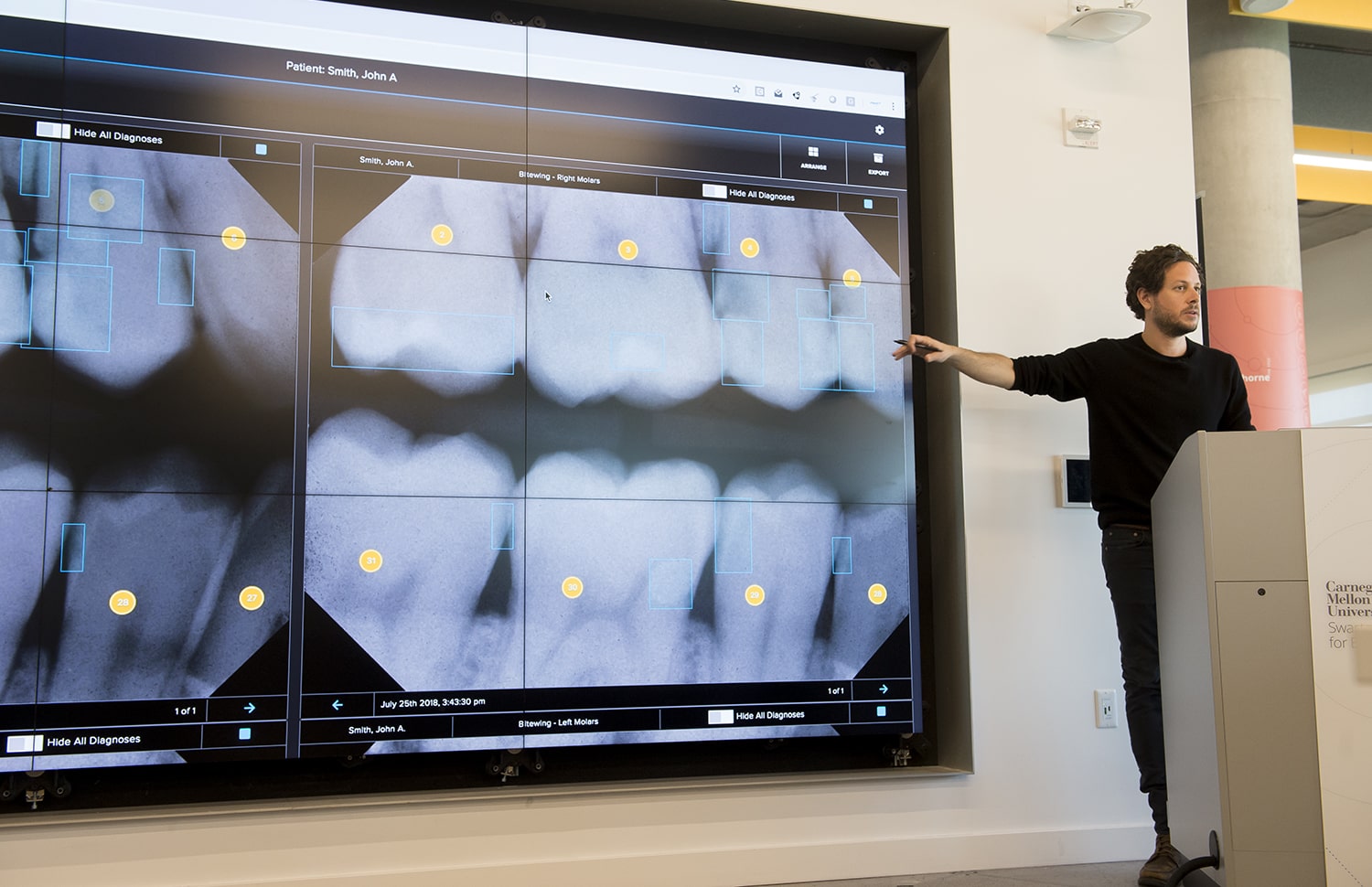 Tanz delivers a talk, "The Paradigm Shifting Power of AI," at Carnegie Mellon University in 2019.
"I felt like there were higher applications of this technology that I wanted to pursue," he said. "I wanted to genuinely improve lives in a fundamental way. With Pearl, we can affect billions of lives, in a very real way."
He began to investigate the use of computer vision to assist in radiography and improved health care outcomes. His company worked on several potential applications before focusing on dentistry.
Second Opinion aids dental professionals by using AI to review X-rays for problems such as tooth decay, calculus and root abscesses.
"The benefits of Second Opinion are massive and unburden dentists in a variety of ways. On a standalone basis, we showed that our AI outperformed humans — that's a testament to the technology that we built," Tanz said. "AI more than anything else just helps increase the level of accuracy."
Now that Second Opinion has cleared the FDA, Pearl's work has just begun.
"We believe this will be a fixture in every dental practice in the world," Tanz said. "It will become a fundamental utility, like water and electricity."