Effective leaders and managers must know how to deliver on their ideas in a measurable way, clearly communicate with all stakeholders, and understand how their roles and decisions fit into the broader landscape of the field. To achieve these competencies, there is no substitute for meaningful hands-on learning experiences that bridge learned theories and best practices.
AT HEINZ, YOU WILL:
Experience Pittsburgh's arts and cultural sector, widely recognized for its innovative approaches and contributions to the city's renaissance.
Move beyond the classroom and gain tangible skills

 

through work opportunities both on- and off-campus, including positions at Future Tenant and fellowships at the College of Fine Arts.
Solve a real-world problem for a real-world client

 

in your team-based Capstone Project, collaborating with our top industry and government partners.
Make meaningful connections

 

through internships and apprenticeships, many of which lead to full-time job offers.
Apply your newly earned knowledge

 

from class to immersive activities, workshops, events, and student clubs.
Not only do these opportunities crystallize concepts and strategies learned in coursework, they add highly marketable industry experience to your résumé prior to graduation.
INTERNSHIPS & APPRENTICESHIPS
MAM students are required to complete a 10-week, full-time internship during the summer between the first and second years. The majority of our students complete their summer internship in New York, Washington, D.C., Chicago, San Francisco, or Los Angeles. Internships present you with the chance to apply what you've learned in your first year to real-life situations, gain exposure to your future field, build your résumé, and make lasting professional contacts.
Additionally, many MAM students take on a part-time apprenticeship in the Pittsburgh region during their second year. All MAM students are eligible to complete an apprenticeship, with earnings up to $5,000. Apprenticeships further supplement coursework and enrich the student experience.
Unforgettable Internships
---
MAM students discuss the impact of gaining practical experience in the arts management field.
Recent Internships:
Aspen Music Festival
Chicago Shakespeare Theater
American Repertory Theatre
The Smithsonian Institution
Jacob's Pillow Dance Festival
Cirque du Soleil
The Kennedy Center for the Performing Arts
The Glimmerglass Festival
The Guggenheim Museum
Whitney Museum of American Art
Recent Apprenticeships:
Andy Warhol Museum
Carnegie Museum of Art
The Mattress Factory
Pittsburgh Symphony Orchestra
Pittsburgh Cultural Trust
City Theatre Company
Attack Theatre
Pittsburgh Public Theatre
Greater Pittsburgh Arts Council
Pittsburgh Symphony
Pittsburgh Opera
Pittsburgh Children's Museum
CAPSTONE PROJECTS
MAM students complete a team-based project, working in close collaboration with a real-world client. These projects fulfill an actual business or operational need for our partners, giving you an opportunity to have a measurable impact while still in school.
Recent MAM Capstone clients include:
The Museum of Modern Art (MoMA)
The Lincoln Center for the Performing Arts
Pittsburgh Ballet Theatre
Pittsburgh Cultural Trust
National Theatre Institute/Eugene O'Neill Center
globalFEST
Rivers of Steel Arts
Phillips Connection
Carnegie Museum of Art
Greater Pittsburgh Arts Council
Jacob's Pillow Dance
Mattress Factory Museum
American Alliance of Museums
NETWORKING, INDUSTRY TRIPS, AND SPECIAL PRESENTATIONS
---

The MAM Program organizes a number of unique opportunities for networking with and gaining insight from top industry professionals. These opportunities include conferences, industry trips, speakers, and Network New York, which has become a centerpiece of the program's first year. We organize other cohort trips to Washington, D.C. and other cultural centers as well.
AMT LAB: Arts Management & Technology LABORATORY
Widely considered an asset to the field of arts management as a whole, AMT Lab is a MAM research center serving as an exchange, a catalyst for innovative ideas, and a conduit for knowledge circulating at the intersection of arts, management, and technology.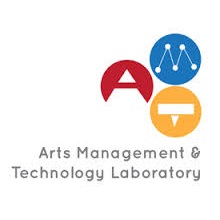 Each year, many MAM students work within AMT Lab as paid researchers and contributors. These positions offer many opportunities for publication, dialogue with practitioners, and exposure to the latest innovations in arts technology.
AMT Lab provides current and future arts managers, technologists, and researchers with existing best practices and emerging technologies that allow for a direct impact on their work and their organization. AMT Lab is a resource that leads to innovative, effective, and efficient integration of technology in the cultural and creative enterprise space.
MAM in the Field
---
MAM students have many opportunities to network with and learn from professionals during industry trips and arts conferences
ON-CAMPUS POSITIONS
Fellowship positions are available through the College of Fine Arts 

School of Music, School of Drama, Miller Gallery, and other CFA departments, as well as

 the Heinz College-affiliated Arts Management and Technology Laboratory (AMTLab).
Research Assistantships pair students with faculty and research centers to pursue topics of interest.
Teaching Assistantships are available to students in the final two semesters of their program. 
U.S. Citizens enrolled in the MAM program can work part-time for organizations in the Pittsburgh region, and work for public and non-profit firms is often eligible for Federal Community Service Work Study. 
See the MAM Student Finances page for more information about work study and fellowship opportunities.
STUDENT ACTIVITIES & CLUBS
Many Heinz College students complement their education with involvement in immersive student activities and clubs. In some cases these activities are purely recreational or centered on community-building, but in many others they can be direct extensions of, or supplements to, coursework.