The Growing Urgency of Sustainable Development in a Post-COVID World
---
By Scottie Barsotti
Faith in institutions of all sorts have been challenged, pressured, or outright attacked in recent years. According to Ambassador Sarah Mendelson, given the COVID-19 pandemic and the rise of authoritarianism around the world, the mission of implementing the Sustainable Development Goals has never been more critical and can both help restore faith in institutions and enable democracies to deliver for their citizens.
COVID-19 is not the singular source of the world's problems today. Not by a long shot. In many cases, the pandemic accelerated or exacerbated problems that had existed for years or even decades. The issues made worse by COVID-19 are both global and hyperlocal, requiring solutions at every level to protect public health, reduce inequalities and inequities as well as safeguard economies.
"One thing that COVID has done is laid bare disparities within communities," said Ambassador Sarah Mendelson, Distinguished Service Professor and Head of Heinz College in D.C. "COVID has helped illustrate the need for the Sustainable Development Goals very explicitly."
The Sustainable Development Goals (SDGs) are a framework of 17 interconnected objectives to advance human society, from reducing poverty to combatting climate change to creating more just and inclusive communities. While the SDGs were adopted in 2015, years before the pandemic struck, the SDGs provide a roadmap for how to build a post-COVID world that is not only more resilient and secure, but more prosperous and equitable.
Many of us engaged in the SDGs are referring to this decade as 'the decade of action.'

Amb. Sarah Mendelson
Along with colleagues serving as part of the Sustainability Initiative, Amb. Mendelson has been central to CMU's efforts to promote awareness and understanding of sustainable development and align the University's education, research, and practices with the SDGs. She hopes that the movement in support of the SDGs continues to grow globally and build momentum within the CMU community, particularly among students.
"We have student groups who are engaged in activities that are directly related to the Goals, even if they don't specifically call that out in the way they talk about themselves," said Mendelson. She believes it is incumbent upon trusted institutions like CMU to raise awareness within their community that this global framework exists.
"Many of us engaged in the SDGs are referring to this decade as 'the decade of action.' We need to let the younger cohort know they can be involved, and that we need them to be involved. We need to listen to them to find out what they're interested in and what they want to see happen by 2030, and include them so they can engage with this larger conversation, starting locally," said Mendelson.
We talked with Ambassador Mendelson to get her perspective on how the SDGs have been affected by COVID-19, the state of the SDGs, and leadership in the U.S., and more. 
The following interview has been edited for length and clarity.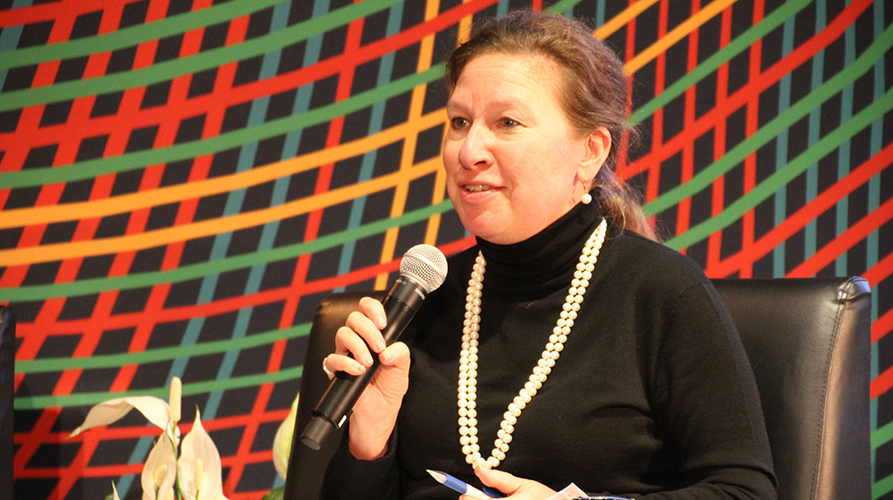 Sarah Mendelson speaking on a panel at Carnegie Mellon University
---
Heinz College: How have the events of the past year intersected (or collided) with the SDG project?
Amb. Sarah Mendelson: The pandemic has taken a toll and wiped away progress in certain areas, such as global efforts to eradicate extreme poverty. In higher income countries like the U.S., it has led us to focus on inequities within our own communities. When we've talked about inequities in the past, we tended to talk about a city as a whole, or the U.S. as a whole; but when you start to look at disaggregated data, you find extremes in life expectancies within different wards in Washington, D.C., for example, or between different racial or gender demographics in Pittsburgh. When you look at the lives of citizens in this way with such data, you realize we have huge challenges, and the SDGs can help us address those challenges head on. That perspective was something the Goals had already brought to the conversation, but COVID has raised the urgency.
HC: Has COVID-19 elevated the urgency of some Goals over others? 
SM: It's important to understand when we talk about the SDGs, that this set of Goals is interconnected. If you're working on climate relief but don't have a focus on equity, you'll double down on inequity. Sustainable development requires us to look around corners and do the work of understanding how policy decisions in one area can affect communities in an unintended way. It's a 21st century way of looking at the world.
Over the summer and fall of 2020, [CMU Provost James] Garrett and I participated in an exercise pioneered by the Brookings Institution and The Rockefeller Foundation called "17 Rooms"—these were sessions with experts from around the world that were targeted to each of the SDGs. (I note also that we ran a 17 Rooms exercise at CMU in the first two weeks of May 2020 which helped inform our Voluntary University Review.)  In any case, over the summer of 2020, I was a co-moderator of Room 16; Goal 16 is focused on Peace, Justice, and Strong Institutions. It's a complicated Goal that centers on governance and human rights, and we discussed what 'just recovery' looks like. Some 12 trillion dollars around the world have been spent in various COVID relief packages—put simply, have those packages addressed inequities in a meaningful way or have they not?  Are they increasing or decreasing access to social justice?
That conversation was echoed in other rooms—including the rooms dealing with Reducing Inequalities (Room 10), Sustainable Cities and Communities (11), and Climate Action (13). That led us to the idea of organizing with community leaders in a number of cities to understand what were the social justice needs before COVID hit, and to what extent have these relief packages had an impact, for better or worse? As we begin to investigate these issues, hopefully this summer, I want to get Heinz College students involved in analysis of open source data to supplement that effort. We're hoping that work will be done throughout 2021 and 2022.
HC: Can you help illustrate the potential impact of the SDGs? What's an example of how the SDGs can have a tangible effect?
SM: The fight against human trafficking is a good example of an area where we have an enormous opportunity with the SDGs. Historically, combatting human trafficking has been approached from a legal framework and criminal justice perspective. The SDGs help to widen the lens to view human trafficking as not only a criminal justice issue of finding and prosecuting the traffickers, but also as a sustainable development issue that puts a spotlight on labor practices and the power of consumer demand. Consumers have a stake, and they have the power to demand the products they buy are produced without slave labor. If we have that kind of widening of focus on a global scale, we'll make a lot of progress on a variety of issues. The SDGs encourage us to think about problems as interconnected and identify ways for people at every level of society to get involved.
[RELATED: Combating Human Trafficking and the Biden Administration; Sarah Mendelson guest post for the Council on Foreign Relations]
HC: In the U.S., to what extent are cities and local communities leading the way in SDG-related efforts versus the federal government?
SM: There are a number of U.S. cities—including Pittsburgh—as well as cities and universities around the world in which there has been significant action on the SDGs. That local leadership has been critical here in the U.S., because at the federal level under the Trump administration, there was ambivalence toward the SDGs, if not hostility. Now, we have a multilateral team coming into the United States Mission to the United Nations who are knowledgeable about the SDGs. The same is true for the U.S. State Department and the U.S. Agency for International Development. And on the policy front, the Biden administration is prioritizing several issues that are central to the SDGs such as reducing inequality.
American leadership is more than head-of-state and national politicians operating at the federal level. Governors, mayors, CEOs, university leaders, and community leaders all have a role to play.

Amb. Sarah Mendelson
But leadership isn't, and shouldn't be, confined to the executive branch. During the confirmation hearing of Linda Thomas-Greenfield to be the U.S. ambassador to the U.N., Senator Ben Cardin from Maryland said 'We don't talk enough about [the Sustainable Development Goals] in Congress or among the American people,' to which I thought "Amen!" There needs to be an awareness raising campaign about the SDGs within Congress. How wonderful then that Representative Barbara Lee of California has introduced H. Res 30 in support of the SDGs. Today, there aren't enough members who understand what the SDGs are. Some members are doing work that advances certain Goals, but there's value in alignment and in having this common framework.   
That is, frankly, why mayors are interested in the SDGs. Mayor Peduto in Pittsburgh can talk to mayors in Nairobi, Helsinki, Milan, and Pretoria, and they've got a common set of issues, a common language and framework that they can use to collaborate and address those issues. I'm hopeful members of Congress will gain a stronger understanding and continue to drive the conversation nationally. But American leadership is more than head-of-state and national politicians operating at the federal level. Governors, mayors, CEOs, university leaders, and community leaders all have a role to play.
HC: Over the last four years, the United States stepped away from several multilateral agreements and institutions. The Trump administration took steps to distance the U.S. from international projects like the WHO, the Paris Climate Agreement, the Human Rights Council and so on. Recently, we've seen U.S. presidential elections withstand numerous shocks, including foreign interference, pressure on local election officials, and mob violence. Taken together, where do these things leave the U.S. in terms of our ability to lead on the SDGs and other forums of global leadership?
SM: The Biden administration and the Department of State under Secretary Antony Blinken have plans for a "Summit for Democracy"—this is critically important, as our democracy is in distress as is the case worldwide. We need to repair at home in the U.S., which will help us in our efforts to promote democracy and support and collaborate with other democracies around the world. This is connected to sustainable development, as well as the urgent need to combat the rising tide of authoritarianism, internationally and domestically. 
[RELATED: If You Build It, They Will Come; Sarah Mendelson guest post for American Purpose]
HC: What are some of the steps that can help move us in a positive direction, and how can those gains be made permanent?
SM: We need to find ways of baking the SDGs and pro-democracy reforms into the executive branch, so they aren't as susceptible to being reversed by executive orders in a next administration. Congressional action can accomplish some of that by passing laws, but we also need to invest in the right staffing and structures, and improve our ability to communicate about the SDGs across agencies whether working domestically or on foreign policy. It's more difficult here than in Europe, for example. European countries have been actively engaged in development since after World War II. Germany, Finland, the UK and others built back after the war and have continued investing in sustainable development for decades. In the U.S.—where there's so much devolution to the states—governors, mayors, and local representatives become so important. There's a lot we can do at the federal level, but if anything, the complexity of the challenges makes local leadership that much more important to progress or in some cases, to blocking progress.
HC: How can students get more involved?
SM: It is important to note that in the process of compiling the 2020 Voluntary University Review (VUR), hundreds of students, faculty, and staff engaged in some way. We also found 2,938 courses mapped to the SDGs, and we examined the work of the over 450 student organizations and how they mapped to the SDGs.  So there is a strong foundation on which to build.
CMU students can get involved in a variety of ways. They can reach out to the Sustainability Initiative by emailing sustainability@cmu.edu. Many already are active in advancing some part of the SDGs, so I encourage students to seek each other out and start conversations. Find professors who are doing this work too and speak to them. In addition to clubs and projects that specifically target the SDGs, they can read more about sustainability initiatives at the University and check out our VUR, a first-of-its-kind report.
The world communicates about the SDGs through Voluntary Reviews. Cities are conducting Voluntary Local Reviews, a concept pioneered by our own Alexandra Hiniker when she worked for the City of New York. The U.S. certainly needs to do a Voluntary National Review, as 168 countries, and all our peers, have done. Any organization that wants to conduct a review can work with experts to accomplish that—there's enormous opportunity there for CMU students, and Heinz College students in particular, to work with organizations and governments to analyze data, determine gaps, and create plans of action to close the gaps.
I am hoping in the next year we see students involved in a challenge to create policy advocacy toolkits, designed to make it easier for busy students to contact their mayor, governor, congressional representatives and other leaders to raise issues and request action on a particular Goal. Stay tuned for more on that.  We need to make sure students and other young people know that their generation has the most to gain or lose from how robustly the SDG agenda is implemented by 2030 and support them as they make their voices heard.
Ambassador Sarah Mendelson is Distinguished Service Professor and Head of Heinz College in D.C., and co-chairs the university steering committee dedicated to the SDGs, the Sustainability Initiative. She recently launched a speaker series called Democracy Now and Next, convening experts regarding U.S. approaches to advancing democracy and countering authoritarianism at home and around the world.