MSPPM: Data Analytics
---
Heinz College offers a depth of analytics coursework that is unrivaled among policy schools, and the intense MSPPM: Data Analytics pathway is our most quantitatively rigorous public policy program.
As the modern world generates massive amounts of data, large organizations, government agencies, think tanks, and consulting firms all seek the brightest minds with next generation data skills. The need continues to grow in public interest sectors for professionals who can interpret and analyze raw data to improve public programs and policies across areas such as education, transportation, energy and the environment, criminal justice, sustainable development, national security and defense, and health and human services.
You can step up and take on such challenges.
Our MSPPM: Data Analytics pathway will train you to harness the power of data and analytic technologies to transform organizations that serve the public good. MSPPM-DA graduates have a truly unique skill set in the policy field. and are highly sought by employers, including the top firms and agencies in our partner network.
In addition to world-renowned faculty with deep expertise in analytics, Heinz College houses several analytics-driven research institutes, where you can get involved in groundbreaking data projects while in school.
Location: Pittsburgh, Pennsylvania
Duration: 2 years / 4 semesters (Fall, Spring, Summer Internship, Fall, Spring)
Data Science for Social Good & Public Interest Technology
Heinz College is a global leader in applying data science to public policy and using technology for public good. Among policy schools, we have the deepest bench of data scientists and analytics experts to help you convert data into human-centered solutions. Under the direction of our faculty experts, our policy analytics students tackle complex problems such as:
Predicting resource shortages at senior care facilities during COVID-19
Promoting fairness and reducing bias in criminal sentencing
Combatting the opioid crisis by helping social workers identify abuse
Improving transparency and data-sharing across public service agencies
Mapping public utilities using data and technology
Reducing waste and fraud in the Medicare system
Using text analytics and machine learning to fight poaching and illicit trade
Testing feasibility of large-scale projects in renewable energy, like solar farms and biogas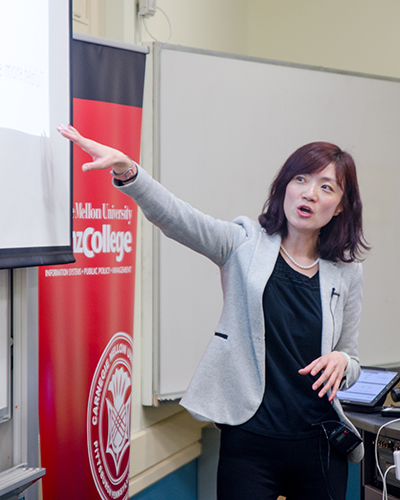 Game Changing Research
---
MSPPM-DA students gain data skills and techniques that open new possibilities for public policy research and social impact. Heinz College and CMU provide many opportunities to apply those skills on innovative projects directed by our faculty and sponsored by our renowned research centers. Recent research highlights include:
Reducing bias in data and algorithms to minimize false positives in child welfare screening
Evaluating COVID-19's impact on income loss, mental health, and housing among vulnerable populations
Using machine learning to optimize routes for meal delivery to seniors and children in low-income households
Developing decision tools for gig workers that address systemic bias and promote worker well-being
My Story: Gursmeep
---
Gursmeep Hundal (MSPPM-DA '18) grew up "all over India." In the MSPPM: Data Analytics program, she found the right blend of curiosity and reason to have an impact in the world.
MSPPM: DATA ANALYTICS CURRICULUM
---
YEAR 1 - FALL SEMESTER
Programming R for Analytics
Statistical Reasoning with R
Intro to Database Management
Intermediate Database Design and SQL
Intro to Programming with Python
Applied Economic Analysis
Writing for Public Policy
Strategic Presentation Skills
YEAR 1 - SPRING SEMESTER
Management Science I & II
Applied Econometrics I & II
Data Mining

Policy & Politics: American or International Perspective

Financial Analysis
Financial Statements and Analytics for Companies
--REQUIRED SUMMER INTERNSHIP--
YEAR 2 - FALL SEMESTER
Organizational Design & Implementation
Data Science and Big Data
Applied Analytics: the Machine Learning Pipeline
A/B Testing: Design and Analysis
AI, Society, and Humanity
Cities, Technology, and the Environment
YEAR 2 - SPRING SEMESTER
Data Analytics Capstone Project
Decision Analytics for Business and Policy
Big Data and Large Scale Computing

Managing Analytics Projects

Critical Analysis of Policy Research