Effective leaders and managers must know how to deliver on their ideas in a measurable way, clearly communicate with all stakeholders, and understand how their roles and decisions fit into the broader landscape of the field. To achieve these competencies, there is no substitute for meaningful hands-on learning experiences that bridge learned theories and best practices.
AT HEINZ, YOU WILL:
Move beyond the classroom and gain tangible skills

 

through work opportunities both on- and off-campus, including research and teaching assistantships alongside our faculty experts.
Solve a real-world problem for a real-world client

 

in your team-based Capstone Project, collaborating with our top industry and government partners.
Make meaningful connections

 

through internships and fellowships, many of which lead to full-time job offers.
Apply your newly earned knowledge

 

from class to immersive activities, workshops, events, and student clubs.
Not only do these opportunities crystallize concepts and strategies learned in coursework, they add highly marketable industry experience to your résumé prior to graduation.
CAPSTONE PROJECTS
Most full-time Heinz College master's students complete a team-based project, working in close collaboration with a real-world client. These projects fulfill an actual business or operational need for our partners, giving students an opportunity to have a measurable impact while still in school.
Impact Before You Graduate
---
Capstone projects have an immediate impact, like this project with the Pennsylvania Department of Community and Economic Development to help policymakers advance the state's Innovation Economy.
Recent MSPPM Capstone clients include:
World Economic Forum
The Aspen Institute
SAS Institute
World Bank
Pittsburgh Regional Transit
Global Emancipation Network
OECD
U.S. Department of Education
U.S. Department of Housing and Urban Development
Commonwealth of Pennsylvania (multiple departments)
RAND Corporation
Green Edge Technologies
New Orleans Police Department
YWCA of Greater Pittsburgh
Bike Pittsburgh
Allies for Children
UNICEF
Footbridge for Families
Overseas Vote Foundation / U.S. Vote Foundation
Amtrak
Heinz Endowments
City of Pittsburgh (multiple departments)
Urban Redevelopment Authority of Pittsburgh 
One To World
INTERNSHIPS
Most Heinz College master's students are required to complete a 10-week, full-time internship during the summer between the first and second years. Students in MSPPM: PITTSBURGH and DATA ANALYTICS all complete required internships; WASHINGTON, D.C. students complete a summer internship as well as a Heinz Policy Fellowship during their second year; FAST TRACK students are not required to complete an internship, however many opt to do so.
Internships present you with the chance to apply what you've learned in your first year to real-life situations, gain exposure to your future field, build your résumé, and make lasting professional contacts.
AARP
Accenture
Allegheny County Department of Human Services
Allegheny Health Network
Blue Cross Blue Shield Association
Carnegie Library of Pittsburgh
Carnegie Mellon University
Chicago Transit Authority
City of Alexandria
City of Pittsburgh
Commonwealth of Pennsylvania
Consumer Financial Protection Bureau
Deloitte
Facebook
FDIC
JP Morgan Chase
National Cancer Institute
National League of Cities
NorthShore University HealthSystem
The Lego Group
Los Angeles Mayor's Office
MetLife
National Governor's Association
The Nature Conservancy
Pennsylvania Department of Transportation
Port Authority of New York & New Jersey
Unilever
United Nations
United States Congress
University of Pittsburgh Medical Center (UPMC)
Urban Redevelopment Authority of Pittsburgh
U.S. Department of Defense
U.S. Department of Justice
U.S. Department of State
U.S. Environmental Protection Agency (EPA)
U.S. Food and Drug Administration (FDA)
U.S. Government Accountability Office (GAO)
U.S. Office of Management and the Budget (OMB)
The World Bank
Presidential management fellows
The Presidential Management Fellowship Program is the Federal Government's flagship leadership development program for advanced degree holders across all academic disciplines. Its mission is to recruit and develop a cadre of future government leaders drawn from all segments of society. 
Our faculty are more than researchers and instructors. They are innovators and mentors who work to solve major problems facing companies, governments, and society. Most importantly, our faculty are uncommonly accessible and include students in their groundbreaking work.
As a Heinz College student, you have many opportunities to enrich your grad school experience by working closely with world-renowned faculty.
EXPERIENTIAL CLASSES
Many classes focus on experiential projects, such as Measuring Social (see video), in which students learn to analyze social media data and solve problems for partner organizations from industry, government, and the media.
Also, for many years, Heinz College has welcomed colleagues from the U.S. Army War College to campus to conduct an International Strategic Crisis Negotiation Exercise with our students, providing an invaluable experience in leadership and international diplomacy.
Our Machine Learning for Public Policy Lab, taught by Professor Rayid Ghani, is a project-based course that teaches students to solve real-world problems using machine learning, with a focus on public policy and social good. Students build end-to-end machine learning systems, starting from project definition and scoping, to modeling, to field validation and turning their analysis into action. 
A Home Run for the Pittsburgh Pirates
---
A group of Heinz students from Ari Lightman's Measuring Social class collaborated with the Pittsburgh Pirates to help the stalwart MLB franchise find new ways to engage fans on social media.
LEADERSHIP AND THE ARMY WAR COLLEGE
---
Students participate in a crisis exercise as part of an experiential course taught in collaboration with the U.S. Army War College.
army war college strategic crisis negotiation exercise
The U.S. Army War Colleges serves as a finishing school for military leaders in the arena of land-based warfare. Founded in 1901, the Carlisle, Pennsylvania-based institution produces graduates schooled not only in military theory but in leadership, strategy and communication.
Each year, representatives from the War College visit Heinz College for a strategic negotiation exercise. This introductory course is designed to increase your understanding of international conflicts and negotiation processes, and improve your effectiveness as a team leader, team member and negotiator. 
Policy innovation lab: User-centered research, human-centered design
At Heinz College, students learn by engaging with the real world—while under the tutelage of our trail-blazing faculty. Heinz's Policy Innovation Lab provides students with an avenue to gain real-world experience as they earn their master's degree. 
The Policy Innovation Lab is an intensive, applied course that prepares students to become public-interest technologists who are creative, ethical, inclusive, and responsive. Our faculty teach students how to design and build public-interest technology services with human-centered design. Working directly with a client from a government office or public-service nonprofit, students aim to develop and deliver a Minimum Viable Product (MVP) with high-impact results.
Recent projects include the creation of an open-source green investment bonds platform for the San Francisco Public Utilities Commission and the support of a toolkit that helps the U.S. Census Bureau counter bias in artificial intelligence.  
New Ground and New Ideas: "Micro-Mini" courses
"Micro-minis" are innovative, heavily experiential course offerings focused on addressing Societal Consequences of Technological Change. "Micro-minis" typically meet over two weekend dates for full-day sessions, often involving site visits and an audience with relevant public officials and experts as students work to solve specific policy challenges.
Recent examples:
Crafting autonomous vehicle policies for the City of Pittsburgh
For this course, the class met with transportation officials from the greater Pittsburgh area including representatives from the City, key transportation agencies, and CMU research centers
The group's top recommendations were presented to the Office of Pittsburgh Mayor Bill Peduto
Read our story about this course and its outcomes
Addressing food insecurity in rural Pennsylvania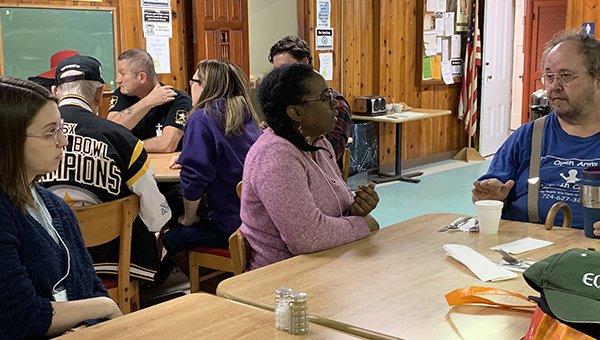 CMU students teamed up with students from Waynesburg University in rural Greene County, Pennsylvania

The student teams drew from the expertise of community organizers and food recovery experts from both Greene and Allegheny Counties, as well as their constituents

The teams' work could provide Greene County Commissioners and the Greene County Food Security Partnership, as well as other state and national food policy experts, with innovative solutions that address rural food insecurity
Investigating solutions for mobility challenges in Pittsburgh's Mon Valley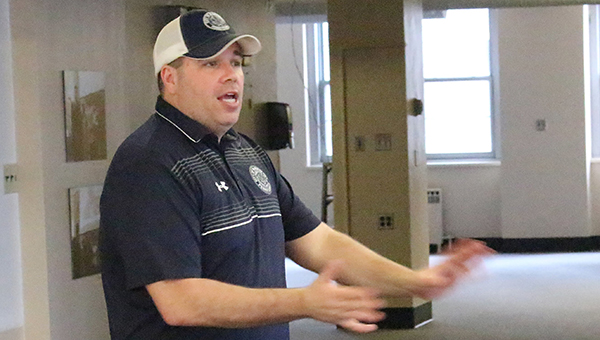 Students toured post-industrial communities along the Monongahela River and met with local elected officials, including McKeesport Mayor Michael Cherepko (pictured)
The course covered the history of economic development in Pittsburgh and Allegheny County, and state involvement, to provide policy context
The group incorporated ideals of human-centered design in their recommendations, which will be delivered to Pennsylvania State Senator Austin Davis, who represents these communities in the state capital
Student Publications and Research
---
Heinz College students have many opportunities to conduct and publish timely research on a wide variety of policy topics. 
In addition to research-based classes such as Policy Innovation Lab and Methods of Policy Analysis, students can get involved with on-campus publications, including the student-run initiatives like the Heinz Journal and Heinz Radio.
SPEAKER SERIES
Heinz College, our programs, and our student organizations host a wide variety of speakers and guest panels representing all sectors. These speakers provide valuable industry insight and networking opportunities as they lead riveting discussions on current topics, trends, and issues relevant to MSPPM students both academically and professionally.
ON-CAMPUS POSITIONS
Research Assistantships pair students with faculty and research centers to pursue topics of interest.
Teaching Assistantships are available to students in the final two semesters of their program.
WORK-STUDY & FELLOWSHIPS
U.S. Citizens enrolled in the MSPPM program can work part-time for organizations in the Pittsburgh region, and work for public and non-profit firms is often eligible for Federal Community Service Work Study. 
See the MSPPM Student Finances page for more information about work study and fellowship opportunities.
STUDENT ACTIVITIES & CLUBS
Many Heinz College students complement their education with involvement in immersive student activities and clubs. In some cases these activities are purely recreational or centered on community-building, but in many others they can be direct extensions of, or supplements to, coursework.