Deliberative Discourse Initiative
---
Civil discourse is a conversation in which we're trying to promote mutual understanding. "Deliberative Discourse" takes the conversation one step further, into action. Specifically, the goals are a commitment to social good and the prevention of social harm.
Deliberative discourse Framework
The role of a higher education institution and college, particularly one that focuses on
policy, is to ensure that we foster spaces that encourage the growth of informed, engaged citizens prepared to participate in the work of our democracy. Success requires working with, and leading across, differences. More specifically, it requires skills in deliberative discourse.
Deliberative discourse is a form of communication in which participants engage in a discussion with the goal of reaching a decision or coming to a mutual understanding. It is characterized by a focus on reasoning, the exchange of ideas, and an effort to consider multiple perspectives.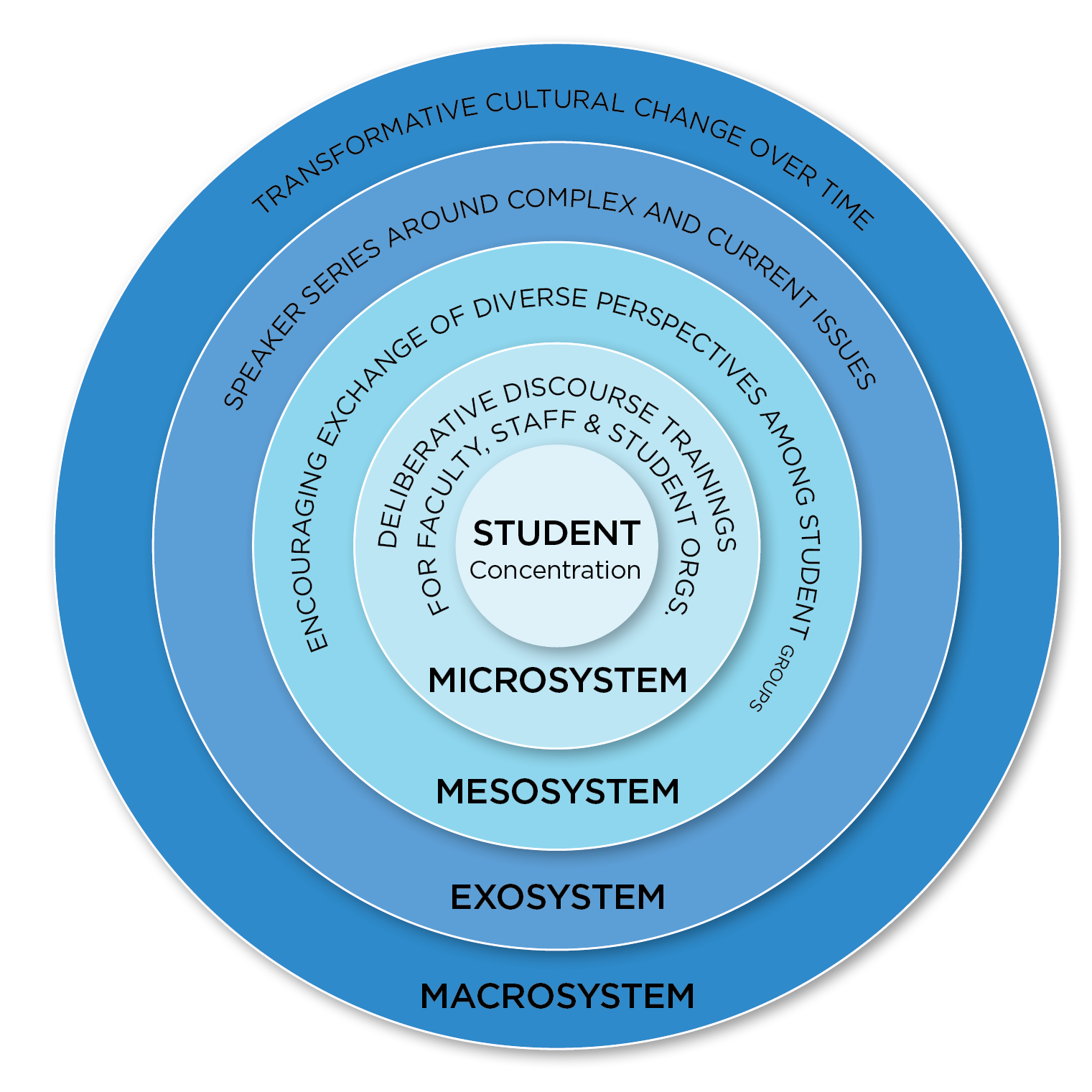 To address the challenges ushered in by polarization on campuses, Heinz College developed a multisystemic intervention informed by Urie Bronfenbrenner's socio-ecological development model, that seeks to embed and integrate deliberative discourse skills into multiple parts of the student experience, leading to a demonstration of the following:
Increased exchange of diverse ideas and perspectives across the college
Increased awareness of personal and professional barriers that prevent working across differences
Increased skills that demonstrate complex and nuanced discourse to solve critical problems
Equipping and Engaging Leaders
---
Students, staff, and faculty participate in a panel discussion focused on how emerging technologies are shaping our political landscape, in terms of both civil discourse and democratic governance.
Leading Across Difference concentration
To lead during a time in which polarization divides us like never before, we must move beyond words and embrace action. Heinz College's Leading Across Difference (LAD) concentration equips you with the tools to engage in deliberative discourse, and translate those conversations into policies and actions that advance social good. 
This concentration provides education and experiential learning in the practice of deliberative discourse to students, faculty, staff, and the community. This holistic approach will result in culture change over time. You'll take classes in conflict resolution, negotiation, and leadership, a course load that builds toward the LAD skills lab. Here, you employ the characteristics of deliberative discourse – beginning with a goal in mind and debating different points of view about how to achieve it – to solve complex current issues. You'll hear from experts in the field and collaborate in groups to produce policy reform recommendations that address a real-world problem. 
Offered to members of all Heinz College educational programs, the Leading Across Difference concentration prepares you to navigate a workplace, industry, or society that suffers from division due to the stark contrast in the beliefs of its constituents. Upon completing the concentration, you'll possess the skills to facilitate discussion and harness the resulting collective wisdom to take action. Because it is action that creates impact—and impact is the goal toward which our graduates strive.
94-854: Developing as a Leader
91-869: Conflict Resolution
94-900: Negotiation
94-897: Leading Across Difference
The first three courses can be taken in any sequence, and are prerequisites to the Leading Across Difference course. Leading Across Difference is a new class grounded in experiential learning that engages students and members of the community in skills practice around solving complex problems.
Learning Outcomes:
Cultivate cultural intelligence and responsiveness.
Deepen negotiation and resolution across difference.
Hone your leadership capabilities in managing diverse teams.
Gain a competitive edge in the global job market.
Conversations at the Crossroads: Technology, Rights, and Public Discourse
----
Balancing Discourse: Rights and Responsibilities in the Age of Social Media
Navigating Free Speech and Regulation on Digital Platforms

Tuesday, September 26, 2023 | 12:30 - 1:30 p.m. | HbH A301
How does an organization's right to regulate discourse on their platform interfere with a user's First Amendment right as outlined within the United States Constitution?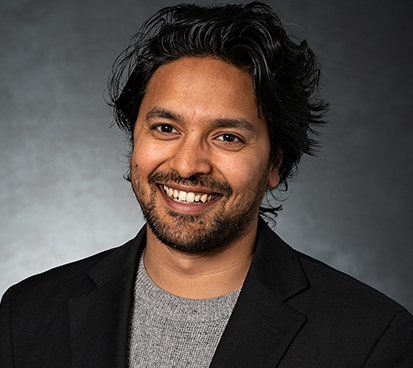 As the number and scale of social media platforms continues to rise, so too does the number of challenges faced by the organizations that host them. Specifically, for platforms that center around some kind of information-sharing, there is a large-scale threat of the spread of misinformation and disinformation. Some organizations have already made attempts to mitigate this threat, but others have held back. As experts in both technology and public policy, the question we pose to you is: What is the right approach and how can we go about implementing it?
This conversation will be moderated by Ananya Sen, Assistant Professor Of Information Technology And Management.
Interested in sharing your thoughts? Sign up here to be seleted to do so!
---- 
Future-Proofing Innovation: Anticipating and Addressing AI Concerns
Strategies for Aligning Technology and Policy in the AI Era

November 2023 | Time TBD | Location TBD
What are the biggest concerns that technology organizations should be considerate of when developing AI tooling? How can we write technical controls and policies to address these concerns?
As usage of Artificial Intelligence becomes more widespread, there are increasing worries about its use-cases—ranging from bias in output or application to the overreliance on intelligence-based technologies. The most considerable concern, however, is that policy might not be able to keep up with the fast-paced nature of innovation. As experts in both technology and public policy, we ask you: How can we alleviate these concerns while still driving innovation? Can we adequately anticipate future concerns and can we think of ways to write both engineering controls and policy frameworks to work through future concerns surrounding any innovative technology?
Deliberative discourse fellow 2023-2024
Rachael Harris, the 2023 Deliberative Discourse Fellow, is an Information Security Policy & Management student at Heinz College. Her research investigates the ethical implications of large-scale technology policies. Rachael has had a long history of discourse and community involvement; she competed on her high school's speech and debate team in Pittsburgh, Pennsylvania, served as an assistant coach for a high school in Ohio, and represented Heinz College at a collegiate graduate student discourse event, among other engagements.
Rachael's passion is to amplify all voices through coordinating an educational environment meant for experiential exchange between students and their communities. During her master's program, Rachael interned at Goldman Sachs as a cybersecurity analyst. She completed a B.S. in computer science from Allegheny College. While attending, she worked at the BiPartisan Policy Center, the Democratic National Committee, and Prudential Financial.
As the inaugural Deliberative Discourse Fellow, Rachael is tasked with collaborating on the design of deliberative discourse events, as well as leading and facilitating events under this initiative.
Our Origins: The Volcker Alliance - Deans Summit
The Volcker Alliance is a nonprofit organization whose work supports current and aspiring public servants. The Volcker Alliance Deans Summit is a collaborative network of leaders of public policy and service schools, founded on a belief that broadening the reach and impact of public service education requires ingenuity and collaboration. Leading Across Difference is an initiative of the Deans Summit.
The Leading Across Difference Initiative is co-chaired by Dean Ramayya Krishnan of Carnegie Mellon University & Dean Victoria DeFrancesco Soto of the University of Arkansas. They direct a working group that is exploring innovative ways to leverage courses and programs that teach students to work across personal and political divides. In particular, this group seeks to strengthen the following skills:
Engage in difficult conversations through active listening;
Express positionality and demonstrate self-awareness;
Remain curious and open to different perspectives and ideas;
Manage, negotiate, or resolve conflict; and
Balance personal values and beliefs with the need to "get stuff done" for the public good.