Heinz College Alum Uses Analytics to Make Meaningful Connections
---
By Maggie Geier & Scott Barsotti
Analytics is all about connections. So it's no surprise when a Heinz College alumnus like Joydeep Gangopadhyay (MISM '08) makes an entire career out of connections. But for Gangopadhyay, connecting people is more than a job: it's a guiding principle.
"As a human species, we want to feel connected to each other."
That's according to Joydeep Gangopadhyay, a Heinz College alumnus and Product Marketing Manager at Facebook. The social media platform's more than 2 billion users would seem to back up that idea.
After graduating from the Master of Information Systems Management (MISM) program, Gangopadhyay spent the years leading up to his position at Facebook using data analytics to better understand the ways that people interact with each other and with businesses. 
Using analytics to understand customer needs
Gangopadhyay began his career in management consulting at PwC, and recalls a project he completed for insurance giant Allstate. At the time, the company was facing declining profits and needed to improve customer satisfaction, but each department's data was isolated from the others.
"There was no single view of the customer, which made it difficult to understand what customers wanted out of their interactions with the company," he said.
His team worked on technology solutions that not only helped Allstate better connect with customers, it helped Allstate better connect with itself by integrating data across the enterprise and enabling departments to work together more closely. This strategy supported the creation of a new web tool that gave customers more agency and insight into their own accounts—the Allstate My Account website—which reduced customer support calls and raised satisfaction scores.
"People have to crawl before they can walk and Fortune 500 companies are no different," said Gangopadhyay. "For Allstate, building systems that collected and processed streams of data in real-time was the first step."
Gangopadhyay later joined LiveRail, a tech start-up creating a video advertising platform. There, he built a product consulting team from the ground up.
"I knew video was going to be big and that publishers would need help monetizing their video content," he said. "I was pitching [LiveRail's platform] to CBS Interactive, and I learned that their inventory of ad space was growing faster than they could sell it to advertisers," he said.
While he recognized the opportunity, Gangopadhyay needed quantitative data to prove his hypothesis. His LiveRail team analyzed millions of datasets to understand the problem in a deeper way.
"We discovered that over 90 percent of our publishers had this problem, and up to 50 percent of those publishers' inventories were unfilled on average," he said.
LiveRail's engineers got to work building the world's first programmatic video advertising platform for publishers, creating real-time auctions between publishers (sellers) and brands (buyers) that wanted to show a single advertisement to a single viewer. Some of the platform's largest publishers included CBS, FOX, ABC Family, A&E, and Major League Baseball.
Gangopadhyay saw LiveRail grow to be the #2 online video ad property in the U.S.—second only to Google. That success led Facebook to acquire LiveRail, and  Gangopadhyay along with it.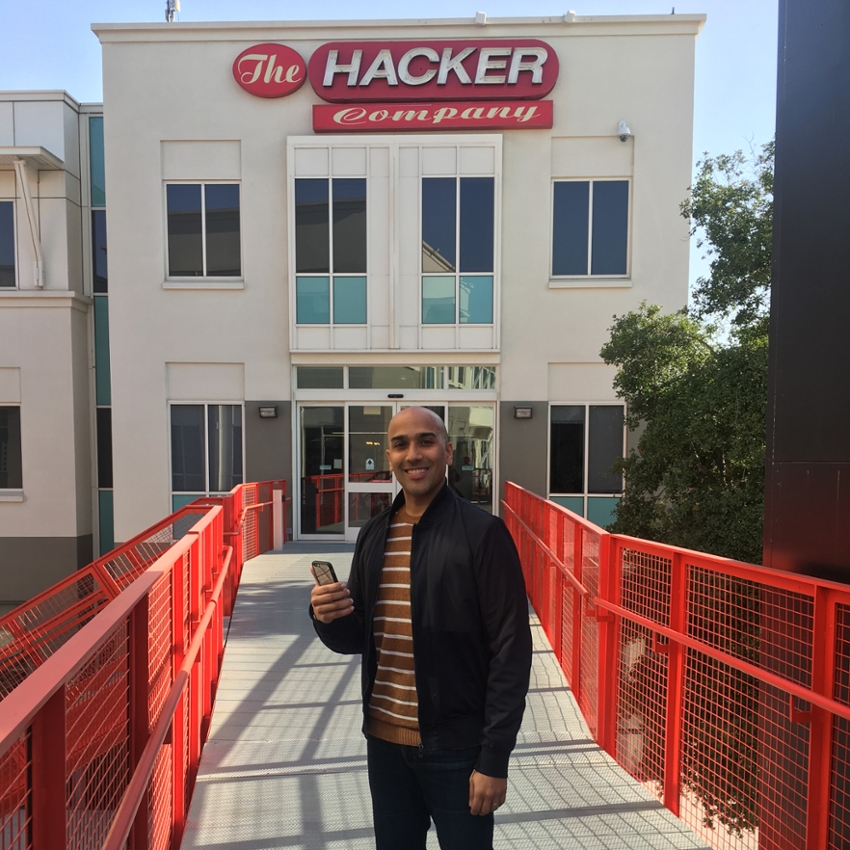 Gangopadhyay in front of the iconic "Hacker Company" sign at Facebook HQ // Joydeep Gangopadhyay
---
Making connections by the billions
Facebook revolves around connecting people with their friends, family, and other people. But it also connects people with things they care about including: places, brands, and businesses.
"Advertising is a means for businesses to connect with both existing and new customers," said Gangopadhyay. "I help people make meaningful connections with businesses, discovering brands that they had never heard of before."
In his role at Facebook, Gangopadhyay uses data analytics to enable advertisers to reach the right people on Facebook. As a Product Marketing Manager, he is responsible for setting the product strategy and developing the global "go-to-market" for Facebook's online signals data platform, which helps over 1 million businesses re-target, optimize, and measure the impact of their Facebook ads.
"In a world where there's so much information overload, it's important to know who your customer is, and to have a crystal-clear message," he said.
Say a young man is buying a new pair of sneakers, and he starts by searching online. Later, when he logs into Facebook, the advertisements he sees will attempt to connect him with relevant sneaker brands based on his preferences and browsing history.
That use of analytics to connect businesses and individuals is a microcosm of Facebook's larger purpose to, as Gangopadhyay puts it, "bring the world closer together."
"Facebook brings this openness and transparency to people that use it. There's this inherent value that comes from it and the more people that we can bring together, the stronger our communities will be."
Those connections, Gangopadhyay says, are more important now than ever before.
"No matter who you are, whether you're running a business or you're an individual, if there's something you care about, you can instantly share your message with more people more quickly than you ever could in the past."