Democratizing Art: Heinz Alumna Launches Startup to Connect Artists and Buyers
---
By Michael Cunningham
CMU Arts Management alumna uses tech to disrupt and democratize the process of collecting art.
When Messay Derebe (MAM '15) first moved to Washington, D.C. to do foundation work after graduating from Carnegie Mellon University, she wanted to start an art collection of her own. 
But rather than collecting beautiful paintings and sculptures, she found herself instead running into eye-opening barriers that prevented her from engaging art at home and supporting artists in the ways she had hoped.
The first barrier, and most obvious for a young professional in high-priced D.C., was financial.
"I always knew art was expensive, but you're encountering pieces that you want to buy and they're 5,000 dollars," she said.
The second barrier was logistical. Like much of D.C.'s population, Derebe was a transient renter. The prospect of purchasing art to fit her current living space seemed impractical, considering that she would likely be living in a different space—and maybe even a different city—in five to 10 years.
 And the third and most nuanced barrier was one of access in a highly-curated sector—one in which it can be tough for emerging artists to break through and intimidating for novice collectors to enter. 
"I'm a person who wants to buy local art," said Derebe. "Through my foundation work, I know there's a lot of artists who have work available and they're not selling the pieces at the rate that they want to. There are people out there who are interested in buying art and they're not able to do it. So there had to be a way to connect those two desires."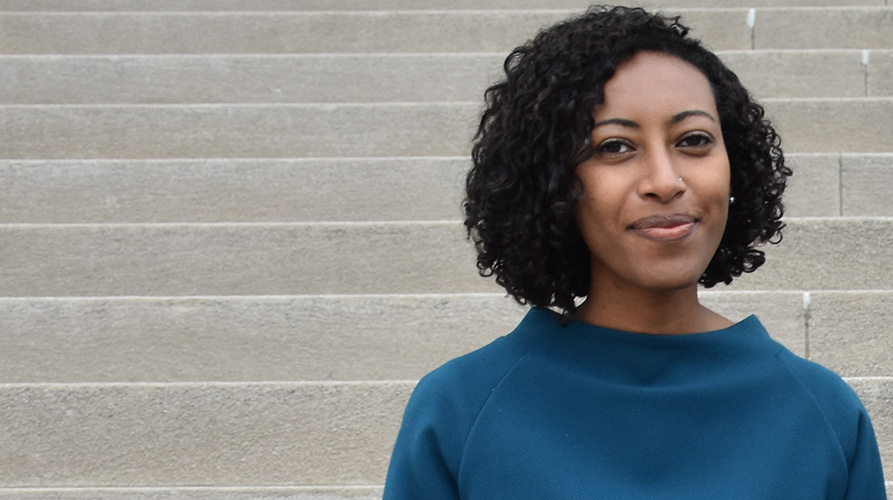 goARTful Co-Founder Messay Derebe
--- 
Where do I stART?
To connect young art collectors with emerging artists, Derebe "selfishly" (in her own words) started goARTful with three co-founders in March of 2017. A multi-tiered, Web- and app-based subscription service, goARTful enables subscribers to borrow unique pieces of artwork and display them in their homes with an option to exchange them for other pieces at their convenience. 
"We want this to be a way for people to explore," said Derebe. "Try out different pieces and try out different styles. Get to know different artists before you even feel like, 'I have to buy this piece.'"
For as little as $15 a month, subscribers can "rent" one art or photographic print per month, with an option of paying more to rent as many prints as they would like. At a $50-per-month subscription tier, users can borrow original paintings straight from the artist's studio. 
An augmented reality feature on the app allows subscribers to take a photo of a room in their household and preview how each piece of available artwork would look hanging in that room, at scale. And all subscription tiers give users the option to buy pieces they especially like. 
The artists who make their artwork available for display receive a portion of goARTFul's subscription revenue, as well as the profits from any artwork that they sell via the app. And goARTful provides these artists with a valuable platform to market their work to a targeted audience.
"Individual artists often aren't thinking about how people are interacting with their art in a data-driven way," said Derebe. "'Which one of my pieces is getting the most views? In what neighborhood or geographic location are the most people checking out my work?' So we're building that data analysis component into the portal. 
"Of course, with the more art and artists that we have, that data aggregation becomes so much more powerful. So in the future, that marketing data analysis might be an additional service that we provide to artists."
We want this to be a way for people to explore.

Messay Derebe, Co-Founder of goARTful
GoARTful features a team of four founding members with full-time careers who combined their skills in finance, arts management, marketing, international business, and tech to develop the product in their "free time."
And Derebe's "selfish" startup endeavor filled a rather large gap in the D.C. arts market. Since launching a year-and-a-half ago with no seed funding and no external investors, goARTful has grown exponentially, in both its subscriber base and its impact on the D.C. arts scene.
"We got really lucky with our startup team because we have four co-founders with very different areas expertise," said Derebe. "Through the skills I gained in the MAM program and my career working with arts organizations, I know how to work with artists, and I also have a finance background. We have an expert developer, someone who's really good at figuring out operations, and someone who knows how to market the app to our target audiences.
"We've gotten to the point in our development where we've realized that further growth will be challenging unless we either invest more time in the company, or seek outside investors so that we can increase our operations capacity. So it's an exciting time for us."
Exposing Artists Across the Globe
From the outset, Derebe and her colleagues sought to explore different ways that they could utilize goARTful to support artists. In addition to the obvious marketing and financial benefits that the app provides to its participating artists, the goARTful team made giving back a fundamental aspect of its mission.
"When we started working on this, the tenet that built into the company was that we want three percent of our subscription revenue to go into a fund that we'd use for philanthropic purposes," said Derebe. "Whether we're making zero money or it gets to the point where it's a substantive or a lucrative idea, we wanted philanthropy to be a part of it. So three percent of all of our subscription revenue is going into a fund that will then be used to make grants to support artists and arts organizations."
Derebe says that the next steps for goARTful are to scale the company so that is increases its subscription base outside of D.C., and eventually supports international artists, especially artists in developing countries. While Derebe never envisioned social entrepreneurship as her career path, she says that the skills she learned as a Master of Arts Management student at Heinz College and CMU's College of Fine Arts caused her to expand her vision for what she could do professionally and, even more importantly, how she could go about achieving her goals.
"This was never part of what I thought I would end up doing," Derebe said. "I think this is where CMU comes in. It's so challenging, but it motivated me to do so many things that I never thought I would be able to do. Things I would have shied away from don't scare me as much as they did before the MAM program, and that opened up a whole new set of opportunities for me as I thought about what I wanted to do with my career."