New Tradition Fights the Gender Gap in Entrepreneurship
---
By Scottie Barsotti
Heinz College alumna Emily Wazlak founded Shine Registry as a platform for women entrepreneurs to ask for what they need—and get it!
Emily Wazlak (MSPPM '17) had the idea for Shine Registry after a revelation.
"A friend of mine was getting married, and another friend was starting a business at the same time. For the friend who was getting married, we had all these traditions to fall back on that were pretty obvious and allowed us, as her friend group, to show we supported her," said Wazlak.
You could probably name most of those traditions off the top of your head. Bridal showers. Brunches. Bachelorette party. Bridal registry. The wedding itself.
But for the friend who was starting a new business, they had no traditions.
"It was really unclear how we could support her and do so in a substantive way," she said. "That's the core of what this company is. Creating a new pathway for folks to ask for what they need when they need it, and for us to create a new tradition for celebrating the professional accomplishments of women the same way we do for the things that happen in our personal lives."
With Shine Registry, she wants to change the way that society celebrates women while helping to close the gender gap in entrepreneurship and fundraising. She notes that women are starting businesses at a higher rate than men, but that our culture hasn't kept up by creating new support systems.
Women are starting businesses at nearly twice the rate men are. But they're receiving a fraction of the support.

Emily Wazlak, Founder of Shine Registry
Through the Shine Registry platform, women starting businesses create registries of products and services they need to get their enterprise off the ground. Items requested on the registry may be small, like office supplies or Instagram follows, or they might be big, like pro-bono web development, marketing, or legal help.
"If you talk to entrepreneurs, their needs vary a lot based on the types of businesses they're starting and where they are in the development of the business. But the need for support remains fairly consistent over a period of time," said Wazlak. 
"We have it set up so people can make monetary and non-monetary asks. It's not just about crowdfunding a certain amount of money, it's also about little things that can encourage people along the way. Small gestures can make a big difference."
When a founder creates a profile, their registry can be browsed by anyone, not just friends and family. That allows people from outside a founder's personal network—say, supportive community members or simply individuals who are enthusiastic about entrepreneurship and new ideas—to find ways to contribute.
Changing the culture
Recent shifts in the public sphere—such as the #MeToo movement and historic numbers of women running for office in the U.S.—make Shine Registry all the more relevant right now. Wazlak says there is a clear crisis surrounding the lack of women in leadership.
"Women are starting businesses at nearly twice the rate men are. But they're receiving a fraction of the support," she said. Wazlak recently penned a Medium post in which she laid out some compelling stats regarding the fundraising gap:
Can Shine Registry help change that conversation? Wazlak says it absolutely can, pointing to the value the platform creates not only for founders, but for supporters.
"The platform emboldens women to think bigger about what they might ask for and then facilitates a space for that. It's been really exciting to see people get what they ask for on their registries," she said. She adds that seeing women ask for big things and get them can encourage a culture around it, prompting other women to do the same.
"And from the supporter angle, I was in that position myself, where a friend was starting a company and I didn't know what to do. I wanted to be a good friend and wanted to know how I could celebrate the work she was doing, and contribute to both her initial and long-term success. That value resonates strongly with me." 
Cultivating a big idea at CMU
Wazlak had the idea for Shine Registry before coming to Heinz College. Prior to pursuing her public policy degree, she had spent several years working in political organizing and advocacy, including four years in D.C.
"There was a huge benefit for me in going through a public policy program before starting a business. It gave me a systems-level perspective on social issues like gender equity, and it gave me a way to think beyond the bottom line. That's exciting for me," said Wazlak.
"Complex problems often need complex solutions, and it's helpful to have a toolkit that gets you comfortable around data and quant, and being comfortable with scale."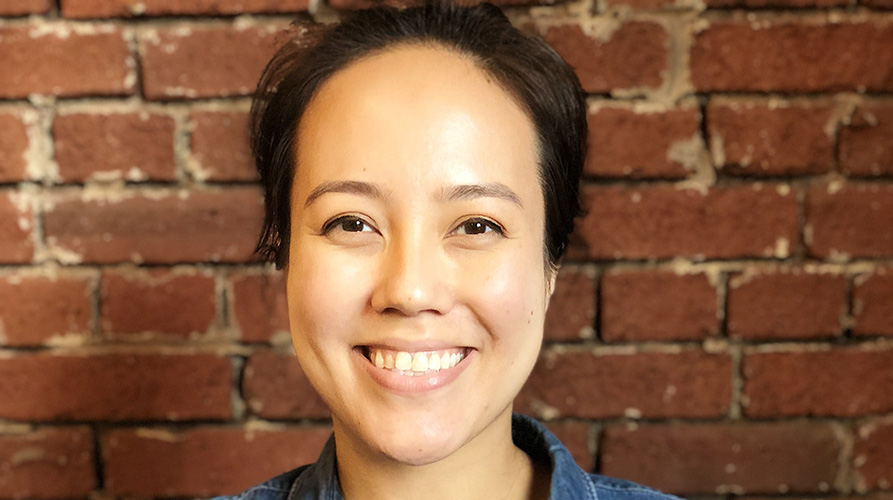 Shine Registry Founder Emily Wazlak
--- 
While at Heinz College, she was excited by the startup culture at CMU. Shortly after arriving on campus, she reached out to Project Olympus, a startup incubator program run out of CMU's Swartz Center for Entrepreneurship. Funding from Project Olympus helped Wazlak create the launch version of Shine Registry's website.
"I just emailed [Project Olympus] and set up a meeting. It was as simple as that. CMU is a big school but people are really open and approachable," she said.
In addition to taking courses in management and social innovation at Heinz College, she also took classes at the CMU School of Design as well as a course in human-computer interaction at the School of Computer Science, which gave her the skillset to build out the first wireframes for the Shine Registry website.
Shine Registry joined the Ascender incubator in Pittsburgh earlier this year, just a few months after Wazlak graduated. She says that she originally didn't intend to stay in Pittsburgh when she came here for grad school, but now is thrilled to be part of the city's booming tech scene.
"There's a lot of enthusiasm and excitement around building new things in Pittsburgh right now," she said.
To learn more about Shine Registry, visit www.shineregistry.com. You can subscribe to their newsletter to stay up to date, and follow Shine Registry on Facebook, Instagram, and Twitter @shineregistry. 
Before attending Heinz College for her master's degree, Emily was a Heinz College PPIA Fellow in 2011. Learn more about PPIA.