A Smarter City Starts Underground
---
By Scottie Barsotti
Heinz College students make the case that coordination among public utilities via a "Smart Data Utility" could save millions of dollars
Birds tweeting. Wind in the trees. A soft rain in the afternoon as a chorus of jackhammers tear up your street. Ah, the sweet sounds of spring!
If you live in Pittsburgh (or any city), road projects can seem like a constant. The city has over 2400 miles of streets, and everywhere you turn they are being dug up for infrastructure repairs and upgrades. Some road-opening projects are planned, but many occur due to emergencies, such as a water main break or damaged gas line.
Pittsburgh is an old city with aging infrastructure, and that means there are a lot of upgrades and repairs that need to be done to prevent energy and water service outages and stem costly product loss (ie. resources lost due to leaks). Additionally, the city and public utilities are not typically in sync on construction projects, contributing to a huge backlog of roadwork and a lot of wasted time and money. 
Heinz College students from the Master of Science in Public Policy & Management (MSPPM) program worked with the City of Pittsburgh to bring smart city thinking to this problem, and gave city officials—as well as the major utility companies that do the most digging—a strategy for progress.
Their proposed platform would transform routine infrastructure projects from mere necessity into an enormous opportunity to better coordinate construction and digitally map Pittsburgh's underground—the result could be millions of dollars saved each year and greater efficiency in long-term planning.
The project was advised by Anna J. Siefken, Executive Director of Carnegie Mellon's Wilton E. Scott Institute for Energy Innovation in partnership with the City of Pittsburgh's Chief Resiliency Officer, Grant Ervin. Siefken said the analytical depth of knowledge and cross-function of the Heinz College team made them uniquely able to approach the issue.
"Rather than thinking of it as just an engineering problem, or a data science or computer science problem, they saw it as a people problem," she said. "This really took an understanding of what would influence people [with different perspectives] to move in the right direction." 
Construction Coordination Is Key
Digging into permitting data from 2014-2018, the student team found that over one-sixth of street openings during that period could have been coordinated.
Why does that matter? Because anytime two or more projects could be coordinated, it represents tens of thousands of dollars in potential cost savings (and that's a conservative estimate). It could also have huge benefits in terms of time and environmental impact as well.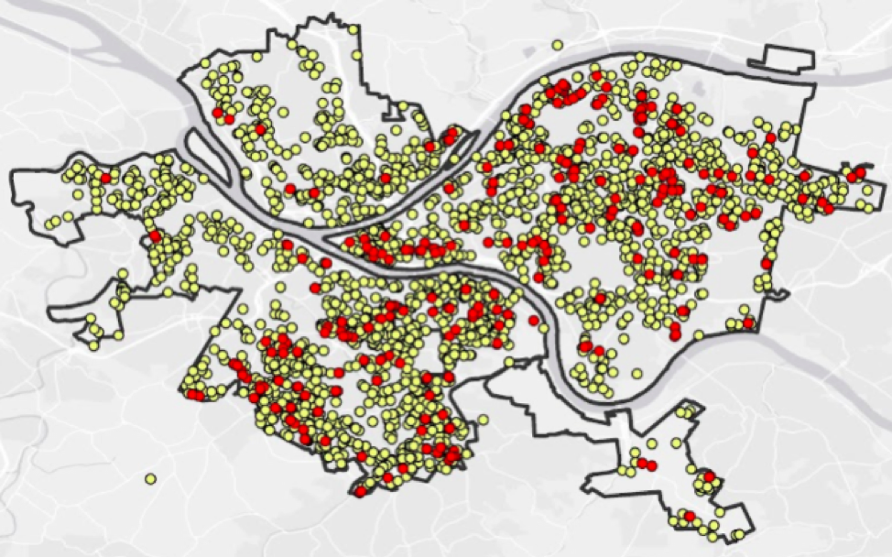 Lee Haller (MSPPM '98), a Heinz College alumnus and Director of Innovation and Performance for the City of Pittsburgh, said that due to the age of Pittsburgh's infrastructure there's an urgent need as well as a unique chance for collaboration.
"[The city and public utilities] have a huge opportunity to work jointly at this exact moment when we all have mutual Interests in making sure our limited budgets are stretched as far as they possibly can be," said Haller. 
However, there are many issues that make construction coordination difficult. The team extensively researched the issue and came up with three key goals that, taken together, would constitute a "Smart Data Utility" for the City of Pittsburgh:
Create a digital, 3D underground infrastructure map
Facilitate short-term and long-term construction coordination
Collect and share smart meter data
Some major hurdles stand in the way of accomplishing these goals. Utility companies have different policies and capabilities where sharing data is concerned, and regulations add complexity at every step.
To make their case, the student team conducted an analysis of related efforts in the cities of Chicago, Baltimore, and Amsterdam (Netherlands, not New York), as well as the state of Texas, to see what insights might apply to Pittsburgh. 
In Chicago, for example, the team learned of a crowd-sourced platform that aims to create a 3D digital blueprint of the entire city. Whenever a street is opened up, the crews onsite send images and data to the city's system. The 3D map has not only cut down on accidents, it saves anywhere from four to fourteen months in the engineering and design phases of construction projects.
"If you had a three-dimensional underground map in Pittsburgh, like we saw in Chicago, there are opportunities to implement predictive analytics. You could come closer to understanding when things might break, and it's typically less expensive to repair a pipe that's about to rupture than a pipe that has broken," said Siefken.
"Coordination of efforts would pay off dividends in the end."
Down the road, the students' implementation plan for the Smart Data Utility calls for the deployment of smart meters that could help to optimize the electrical grid, giving consumers more visibility into their energy use while also improving the ability to collect, aggregate, and share data. That data would further enable improved project coordination. 
Residents have the most to gain from such cooperation from not only a cost perspective, but quality of life. Haller refers to a massive coordinated effort between the city, Peoples Gas, and Pittsburgh Water and Sewer Authority a few years ago in Pittsburgh's Lawrenceville neighborhood. 
"Because all of that work was concentrated at one time, all the water lines were replaced, all the gas lines were replaced, and all the streets were repaved at one time rather than having that be spread over multiple years and multiple disruptions," he said.
An initiative like the Smart Data Utility could enable coordination on that sort of wider scale all the time and dynamically, rather than being only a special circumstance. That could lead to lower utility costs and emissions, as well as make road projects less frequent and less disruptive in total.
For these Heinz College students, the value they add goes beyond time and money. They want to give residents more quiet spring days, free from all those jackhammers.
This capstone project, entitled "Creating the Pittsburgh Smart Data Utility," was completed by Meghan Clark, Muhammad Osama Mansoor, Stephen Munchel, Aiswariya Raja Prasanna Kumar, Benjamin Silliman, and Yiwen Wu.