Speaking the Language
---
By Amanda S.F. Hartle
Alumnus Justin Cole combines technology, data and civic duty to help government deliver efficient, accessible services.
As a boy growing up in Watertown, New York, Carnegie Mellon University alumnus Justin Cole attended Town Planning Board meetings to watch his grandfather in action.
In the volunteer board member role, his grandfather made local government decisions that impacted the day-to-day lives of every resident as well as the esthetics of Justin's hometown.
"From an early age, this sense of civic responsibility was just something that was planted in my head," says Justin, a 2017 Heinz College of Information Systems and Public Policy graduate with a master's degree in public policy and management – data analytics track.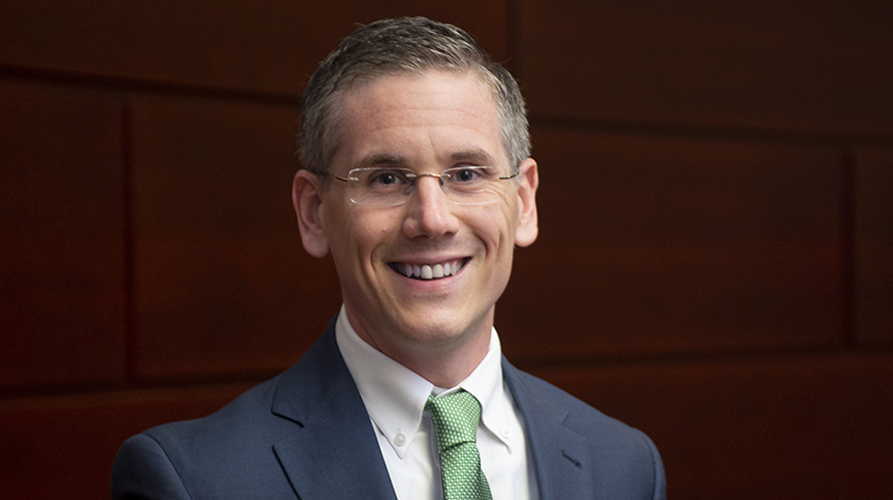 Now, as a Presidential Innovation Fellow (PIF) assigned to the Federal Deposit Insurance Corporation (FDIC), he's continuing the family legacy of public service and giving it a 21st century technology update — while also striving to help local, state and federal governments provide services more efficiently and with greater accessibility.
"I love addressing the problem of how the government can use technology in a responsible way to deliver services to citizens: whether that be through the provision of affordable housing, disaster recovery, how we monitor products through the FDA or ensure the safety and soundness of our financial system," he says.
Bridging Two Worlds
Justin describes himself as a translator.
Whether it's helping people access safe homes to raise their families, connecting state and local governments in New York and New Jersey to available HUD or FEMA grants, or improving efficiency of drug reviews by merging physicians and software developers at IBM, he thrives on bringing people together to talk with one another — not past one another.
"The majority of the work that I do is bringing in experts from different fields, many of whom may have little or no understanding of how the other thinks or operates," Justin says. "I help everyone come to a mutual understanding of what the problem is while also honoring the experience of both groups and the value that they bring to that conversation. I try to be that bridge."
That skill, his passion for data science and technology tools, a few exasperating experiences with government agency application processes, and a nudge from a fellow Tartan who works at the U.S. General Services Administration inspired him to apply for the PIF program.
"Each time I helped a family member apply for social programs, I was left a little bit more frustrated by the process and by how difficult it was for them to access a service for which they were 100% eligible," Justin says.
The language used in the forms, the length of the applications, the formats and the methods for submission combine for a perplexing puzzle that many people struggle to solve.
"I started to think about how to scale these types of services," Justin recalls. "How can that be something that's just embedded into our government, so people don't require as much navigation or support? How can we design services with citizens in mind?"
As a PIF, he's joined a group of like-minded "outsiders" and government officials with decades of experience — building human-centered solutions that may fundamentally alter the federal government. The program embeds entrepreneurs-in-residence for a year to advise, prototype and scale these solutions across many U.S. agencies using industry best practices in data science, design, engineering, and products and systems thinking.
I started to think about how to scale these types of services. How can that be something that's just embedded into our government, so people don't require as much navigation or support? How can we design services with citizens in mind?

Justin Cole
At the FDIC, most well-known for insuring the nation's bank deposits, Justin is exploring new tools that help financial institutions like community banks provide accurate, timely and detailed data effectively and efficiently. Using these data points, the FDIC can gain greater insight into the financial health of these institutions and allow for more efficient supervision.
He also acknowledges the ticking clock on his PIF year.
"You attempt to ensure you're not creating dependencies on yourself that are unsustainable in programs that have been around decades before you got there and will be around decades after you've gone," Justin says. "I want to leave behind a process where people can develop their own ideas and some new channels to help transform those ideas into real changes."
Looking to the future, he's excited and energized about the changes in state and local governments that incorporate evidence-based social sciences practices like randomized control trials and A/B testing. For example, sending out two versions of a letter to renew a social service benefit, studying which was most effective to get people to re-enroll and looking at whether other interventions like a text message or phone call might work even better.
"It's the fulfillment of this idea that data and technology, and concepts borrowed from some of these more technical fields, can ensure the shrinking of the accessibility gap," Justin says. "It is just so exciting because it shows the true multidisciplinary nature of this work."
Hooked on Heinz
A few years into his career, Justin heard about a whole new field, data science for social good. During his research on possible graduate programs, he found Heinz College.
"Heinz College focused so much on that local government aspect, the ability to work and partner with Allegheny County and the City of Pittsburgh," Justin says. "Those experiential learning opportunities were what really hooked me." 
Opportunities that included riding along and sometimes driving a Pittsburgh Department of Public Works street sweeper on the hundreds of miles of the city's street sweeping routes.
"Quite literally it was work where the rubber meets the road," Justin says. "We validated that posted signage matched the understanding of parking restrictions and explored how we can use data to improve the service delivery of street sweeping in the city's streets."
At Heinz College, his fascination on how we can make local government services work better only grew, so he started Students Using Data Science for Social Good (SUDS). The student group partnered real-world challenges sourced from local government and nonprofits with students who could bring data analysis and visualization to the problems.
SUDS is still going strong, just like the friendships he formed through the group.
"Those experiences gave me an opportunity to start to see and meet the true leaders in this field," Justin says. "CMU helped me envision what the art of the possible is when it comes to using data for social good."